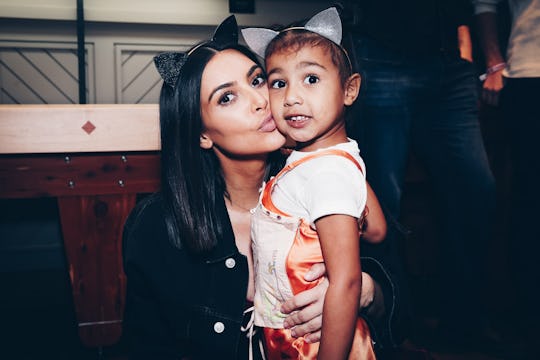 Handout/Getty Images Entertainment/Getty Images
Kim Kardashian Reveals The Touching Birthday Tradition She Does For Each Of Her Kids
Her parents wrote her one and she "wished she had more."
Kim Kardashian is arguably one of the busiest women in entertainment. She has several businesses, she's acting, she has a reality series and oh yes, she has four children she's raising as a single mom. It would be absolutely understandable if she let the ball drop in any one of these areas. If she forgot certain details or let something slide. But when it comes to her kids, she's making sure that doesn't happen. Every year, Kardashian writes lengthy birthday cards to her kids, detailing what happened that year. So they don't forget, and so she doesn't either.
The Skims mogul sat down for an interview with GQ this month when she was named one of their "men of the year," and she shared a little something she learned from her late father, Robert Kardashian Sr., and her mom, Kris Jenner. To write letters to her kids. "My dad wrote me one and my mom wrote me one when I was going into high school," she said in an Instagram video. "I wished I had more."
So Kardashian, who is mom to 9-year-old daughter North, 7-year-old son Saint, 5-year-old daughter Chicago, and 4-year-old son Psalm, took that idea a step further. "I write my kids cards every year for their birthday," she explained. "A four or five page letter detailing the year."
She starts the letter by using their nicknames, then goes on to "talk about everything, the funny words they're saying, and then they get deep." As someone who has lost a parent herself, Kardashian writes these cards because she wants her kids to know "that if I weren't here, every question they've ever had would be answered in these letters." The Kardashians star plans to give them to her kids when they are adults, and hopefully they will appreciate the level of effort that went into them.
As her kids get older, Kardashian, who is co-parenting with ex-husband Kanye West, is making efforts to have special time with each of them. She recently took son Saint on a soccer tour of the UK and Paris with his friends, and she and daughter North have been trying to cook together on their reality series. Lovely moments she can remind them about in these birthday letters as they get older. Because, as any parent can tell you, it's pretty unreal how quickly they forget.