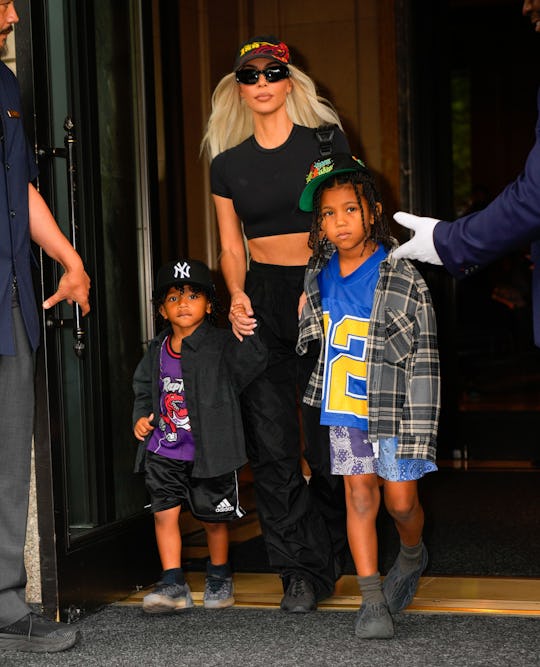 Gotham/GC Images/Getty Images
Kim Kardashian Hired A Male Nanny To Balance Out Her "Female-Dominated" Household
"I really wanted a male around that would be picking them up and taking them to sports."
Kim Kardashian lives in a world of strong feminine energy, and so do her four children. Between her four sisters, her mom, and her many friends and assistants, her children have a whole lot of examples of strong women to learn from in their lives. Not to mention the example she sets herself as an independent single mom and business woman. So she's not worried about that. What she is worried about is bringing in positive male energy to help influence her two sons. So with that in mind, the mom of four shared during the most recent episode of The Kardashians that she hired a male nanny.
The mom of four took her 7-year-old son Saint on a trip to London and Paris with some of his friends to watch soccer games during Thursday's episode of The Kardashians, and she opened up about her specific struggles with raising her son, who she shares with ex-husband Kanye West along with 10-year-old daughter North, 5-year-old daughter Chicago, and 4-year-old son Psalm.
"It's really hard for me to be really strict and to discipline a lot," she explained as Saint was having a bit of a meltdown because she forgot his soccer jersey back at home. "My parents weren't strict at all and sometimes because I'm really busy, it would be amazing if I had a partner who would tap me out and take over and handle it but, you know, it can't happen like that."
"I do think that my household and even our family is very female-dominated," she said before explaining that she hired a male nanny to balance things out a bit. "I really wanted a male around that would be picking them up and taking them to sports."
While the mom of four was happy to add some male influence into her children's lives, she was concerned about how her ex-husband Kanye West might react and found herself pleasantly surprised by how positive he was about the decision. "When he was dropping off the kids, Kanye introduced himself," Kardashian explained. "They played two-on-two with Saint and him. He's been so nice to him, like 'Hey, if you're going to help raise my son' — because he handed him the ball really easily or something — he's like, 'Don't do that, have him get it himself. It's some of the rules I would want.' And I was like 'Oh my God, okay.'"
The reality star has been refreshingly frank about trying to navigate her life as a single mom of four kids over the years, telling Jay Shetty in May, "There are nights I cry myself to sleep."
"Like, holy sh*t, this f*cking tornado in my house. Like, what just happened?" she told Shetty. "With all the moods and the personalities and sometimes they're fighting, and you know, there's no one there. Like, it's [just] me to play good police officer and bad cop."
Now it sounds as though she has an ally in the house who can maybe play good cop or bad cop to support her.