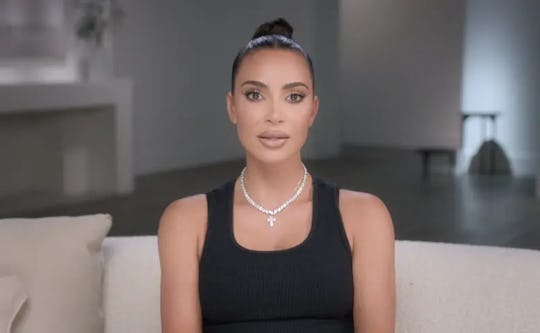 Hulu
Kim Kardashian, Who Also Has Daughters, Says Being A Boy Mom Is "The Best"
It's not the first time Kim K has said something like this.
Kim Kardashian's home is a house divided, apparently. She recently hired a male nanny in order to balance out her "female-dominated household." She's mother to two boys and two girls — North, 9, Saint, 7, Chicago, 5, and Psalm, 4 — and in this week's episode of The Kardashians, she ruffled feathers with a comment that implied she prefers parenting her sons to parenting her daughters.
In the fourth episode of Season 4 of The Kardashians, available to stream on Hulu, Kim chats with sister Kylie Jenner about a special trip she's planning for Saint. He's super into soccer, so Kim is planning a worldwide soccer tour for her son and four of his friends. Kim tells Kylie it's "so fun to be a sports mom." No harm, no foul. It's the confessional moment that comes next where viewers say she took it too far.
"My son Saint has a newfound obsession, love for soccer, so I decided I want to plan this legendary trip of a lifetime," she says to the camera. "I love my girls, but a girl steals your clothes and has an attitude, you know? There's nothing like being a boy mom. Like, seriously, it's the best."
The internet had some reactions. A Reddit thread about the show blew up with comments slamming Kim's remarks, saying, "So much negativity. Hope her daughters don't hear those kind of comments." Another commenter said, "Yikes? You know North sees clips of this stuff…regardless of what Kim has convinced herself." One even accused Kim of displaying misogyny, saying, "Well what can you expect, in the end she thinks girls are less than boys. Of course being a boy mom is better for her, because deep down she's misogynistic."
Some of the comments pointed out that this isn't the first time the KarJenner fam has shown a preference for sons over daughters. When Kylie was pregnant with her second child, a son named Aire, she kept the baby's sex a secret. But Kim said she knew Kylie was having a boy, and the way she explained it was not a fan-favorite moment.
"You're skinnier this [time]," Kim said. "You're prettier than you were last time. Like, the girls take the beauty to give it to themselves. The boys know what's up and they just let you be a little bit prettier."
Then, there was that scene where Khloé Kardashian was disappointed to find out she was having a girl while pregnant with her firstborn, True. When Kris tried to reassure that Tristan would be totally obsessed with their baby girl, Khloe replied, "Well then I'm going to get jealous. I don't like that. I don't like her."
All that to say, this isn't the first time a Kardashian has said something totally cringe-worthy about their kids. Chances are, the "boy mom" comment won't be the last.