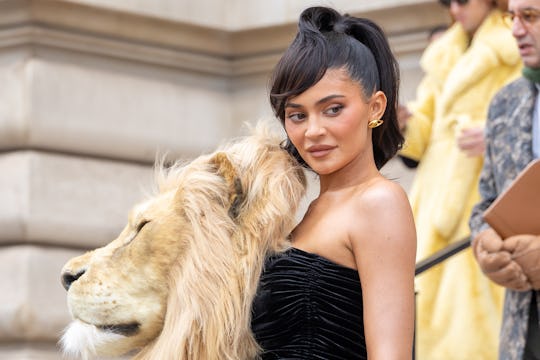 Marc Piasecki/WireImage/Getty Images
Kylie Jenner Finally Revealed Her Baby Boy's Name & It Pairs Perfectly With Stormi
They're nailing the elemental theme.
It has been almost one year since Kylie Jenner and Travis Scott welcomed their second baby, a little boy. And what a ride it has been for the family. First they announced their son's name and then it wasn't the same name any longer. Then the mom of two admitted she simply wasn't ready to share her son's name. Now she's ready. In a recent Instagram post, Jenner shared several photos of her little boy along with the name they've chosen. And it's truly lovely.
Kylie Jenner revealed her son's name is Aire Webster.
Jenner's little boy, who will turn one on Feb. 2, started out as young Wolf Webster. His parents shared his name not long after he was born on social media, and it was met with loads of enthusiasm. Wolf, of course, is a pretty cool name. But it simply didn't sit well with his parents. In March, Jenner explained that their son was not a Wolf after all. "FYI our son's name isn't Wolf anymore," she wrote on her Instagram Story at the time. "We just really didn't feel like it was him. Just wanted to share because I keep seeing Wolf everywhere."
Over the weekend, Jenner announced on Instagram that her son's name is "Aire," along with several photos of her little boy. In one photo, Aire is sitting on his mom's hip in shark pajamas for a mother-son selfie. Naturally all of social media was excited for Aire to make his social media debut, with his grandmother Kris Jenner writing, "I love you Aire Webster," and aunt Khloé Kardashian, herself a mom of two, adding "The king!!! Young king!!!!!"
What does Aire mean?
Aire is a Hebrew name that means "lion of God." It's also simply considered a more poetic version of air, which actually goes quite nicely with his older sister Stormi's name. They're really keeping things elemental.
According to one person on Twitter, however, Aire takes on a very different meaning in their language. "Umm should someone tell Kylie Jenner she renamed her son Aire which is a common Arabic expression for 'my penis' or nah?"
How do you pronounce Aire?
When one of Jenner's followers on Instagram wondered how best to pronounce her son's name, Jenner herself clarified that it was pronounced "air" on Instagram. Or "heir" even, which would feel fairly appropriate.