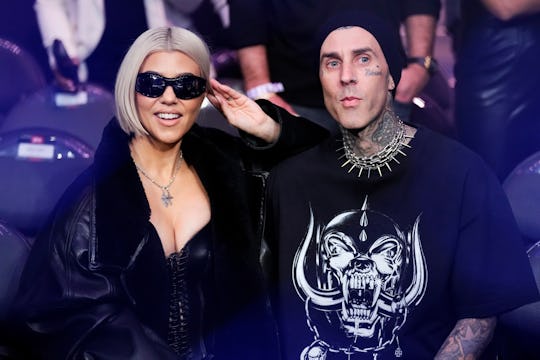 Jeff Bottari/UFC/Getty Images
Kourtney Kardashian & Travis Barker Welcome First Baby Together
After a stressful, high risk pregnancy, Rocky Thirteen has arrived.
Kourtney Kardashian is officially a mom of four. The Poosh mogul and her husband, Travis Barker, have welcomed their first child together, a much-anticipated baby boy, and they have chosen a name that feels so on brand, we can't imagine anything else.
The Kardashians star, who is mom to 13-year-old son Mason, 11-year-old daughter Penelope, and 8-year-old son Reign with ex-boyfriend Scott Disick, has given birth to her fourth baby, according to multiple reports from media outlets. Neither the new mom nor Barker, who is dad to 20-year-old son Landon, 17-year-old daughter Alabama, and stepdad to 24-year-old Atiana de la Hoya with ex-wife Shanna Moakler, has shared a statement about the birth of their baby boy. But multiple sources have confirmed his arrival, as well as his name, which was already heavily hinted at by Barker ahead of his new baby's birth.
Rocky Thirteen Barker, who could well have been born on Halloween, as was Barker's hope when he opened up about his wife's due date in a recent interview on the One Life One Chance with Toby Morse podcast. The expectant dad explained that he had to turn down a benefit concert in Hawaii because "it's the week that Rocky's due." He went on to share the baby's whole name, "Rocky Thirteen Barker." A name his daughter Alabama told him during their own podcast chat earlier this year that she did not support, telling her dad it was "so bad." But apparently she didn't get a say, in the end. Because Rocky has arrived.
The last few months of Kardashian's pregnancy have been stressful, so we can only assume the new parents are overjoyed to finally welcome their baby boy. The mom of four was taken to the hospital in September when she was still pregnant for "urgent fetal surgery," an experience that left her feeling "eternally grateful to my husband who rushed to my side from tour to be with me in the hospital and take care of me afterwards." Since then, Kardashian has reportedly been on bed rest, missing family events like sister Kim's birthday party in an effort to keep her baby safe.
Now Rocky Thirteen has arrived, and we hope mom and baby are healthy and happy. It's been a long journey for the couple to get here, with fertility issues and fetal surgery and bed rest. I guess 13 really is a lucky number, in the end.