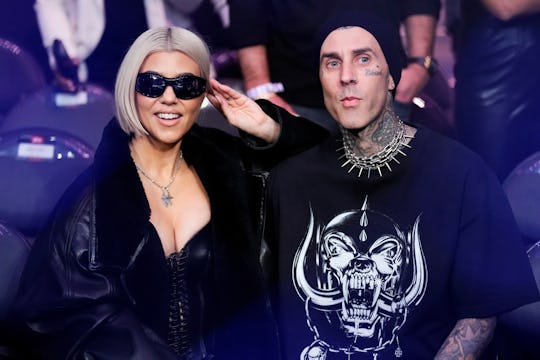 Jeff Bottari/UFC/Getty Images
Travis Barker Casually Revealed What He & Kourtney Kardashian Are Naming Their Baby Boy
And he could be born any day now!
Travis Barker and Kourtney Kardashian have chosen a name for their baby boy. While the Poosh mogul is currently still pregnant with the little one, the Blink-182 drummer recently shared the name they've chosen for him.
Barker recently appeared on the One Life One Chance with Toby Morse podcast to talk about his music and, of course, his life at home with wife Kourtney Kardashian and the impending arrival of their little boy. When asked whether or not fans could expect a new album from Barker's band Transplants, which he joined in 2002, he explained that the band had initially considered doing a benefit concert but had to move it because of his baby boy's due date.
"There's a benefit for Hawaii that we were going to do, but it's the week that Rocky's due," the dad of three said. He went on to share the baby's whole name, "Rocky Thirteen Barker," and Toby Morse noted that this was "such a hard name, man."
So when is little Rocky Thirteen Barker due? "Halloween," Barker confirmed, because of course a baby named Rocky Thirteen sort of needs to be born on Halloween. "It's either Halloween or like, the first week of November," he continued. So Kourtney Kardashian could be giving birth any day now.
The name Rocky Thirteen doesn't just feel very on brand for Halloween, but also for the couple themselves. Barker and Kardashian have really embraced the whole rock'n'roll/goth vibe, even dressing as Beetlejuice and Lydia Deetz for Halloween this year.
The name Rocky has come up before with Barker, in a conversation with his 17-year-old daughter Alabama. When she asked him in July about the greatest of all time (GOAT) baby name for Complex, he said "Rocky Thirteen." She made it clear that she didn't love it, saying, "That's so bad," and he actually agreed it was a bad name. But they appear to be moving forward with it nonetheless.
When Rocky Thirteen finally arrives, he will join older siblings Alabama, 18-year-old Landon, and 24-year-old stepsister Tatiana La Hoya on Barker's side along with 13-year-old Mason, 11-year-old Penelope, and 8-year-old Reign on Kardashian's side.
So Rocky Thirteen will also be lucky number seven. Perhaps born on Oct. 31. We'll have to wait and see.