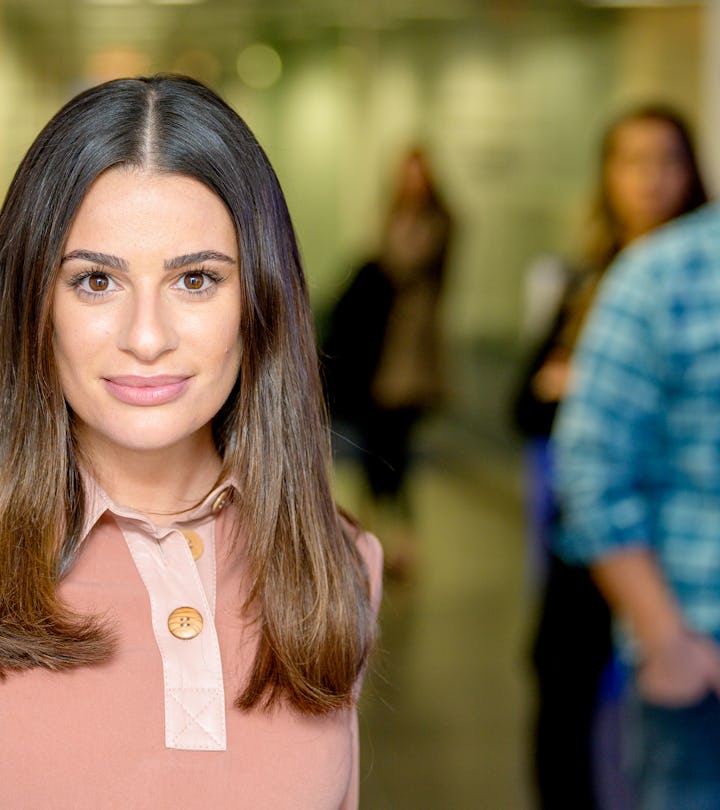 Roy Rochlin/Getty Images Entertainment/Getty Images
Lea Michele Shares How She's Coping With Her Postpartum Hair Loss
"The postpartum hair loss is REAL."
Pregnancy comes with its own slew of strange side effects and they just keep on coming even after your baby has arrived. Ask new mom Lea Michele, who's experiencing postpartum hair loss, a totally normal but nonetheless bizarre post-pregnancy phenomenon.
Michele and husband, Zandy Reich, welcomed their son, Ever Leo, into the world on Aug. 20. Now that she's settling into new mom life, Michele shared that she has been dealing with postpartum hair loss. "The postpartum hair loss is REAL," she captioned a recent photo of a small clump of her brown hair in one of her hands to her Instagram Story.
A week later, Michele took to Instagram to thank her friends for the advice they shared with her and passed some helpful tips to aid in hair growth on to her followers. "I'm so grateful for all of the support and advice sent from moms and friends," she wrote, adding that other new moms had been asking for advice.
Michele wrote that she is going to work on incorporating fruits, vegetables, and healthy proteins (such as eggs and salmon) into her diet. "I've always been a big believer in eating well and that looking and feeling your best starts with what you put into your body," she shared.
It's true, foods that are rich in protein and nutrients — like salmon and eggs — can help contribute to hair health, according to Good Housekeeping. Michele also said that she is still continuing to take her prenatal vitamins, which have folic acid that helps with cell growth, as InStyle has explained.
In addition to taking care of her body, Michele said that she is also planning to give her hair a little TLC. "A lot of my mommy friends suggested some great shampoos to try," she wrote in another post on her Instagram Story. "They also said to avoid using too much heat on your hair and avoid tight ponytails."
According to the American Academy of Dermatology Association (AADA), new moms can use a volumizing shampoo that contains protein to help coat the hair. As for Michele, she said she is trying out Briogeo's Be Gentle Be Kind shampoo.
At the end of the day, Michele said that she's trying to not stress about her hair loss too much. "It's not fun after everything our bodies went through for nine months (and after) it's harder experiencing this especially when we want to get back to feeling like ourselves again," she wrote. "But in the end, it's just temporary and our bodies are beautiful and amazing to do all that they do."
Her most valuable tip for dealing with postpartum hair loss? "Throw the hair in the trash and not the sink to avoid clogging the drains lol," she wrote.
While Michele may be learning to deal with this hair loss, she also seems to be considering swapping her long locks for a "mom bob."
"Enjoying this long hair while it lasts because the mom bob is right around the corner," she wrote in the caption of a mirror selfie, posted to her Instagram Story.
Despite losing some hair, Michele has been all smiles since giving birth. Her Instagram feed has been filled with photos of her and Reich holding their son (without showing his face) enjoying the little moments with him. "ForEver grateful for this true blessing," Michele captioned a photo of Ever's feet, taken in August.
Whether she's bracing herself for the "mom bob" or matching with her son, it looks like Michele is embracing all aspects of motherhood.
This article was originally published on