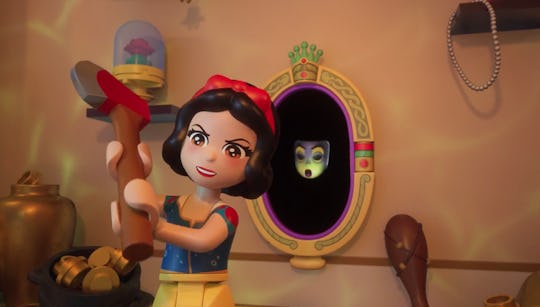 Disney+/YouTube
The Disney Princess Are Ready To Take Down Gaston In This New LEGO Special
Especially Snow White... who showed up with an axe
Batman got his LEGO movie treatment. Star Wars got a few LEGO movies as well. All fun and interesting and quirky, but now it's time for the Disney princesses to get their turn. LEGO Disney Princess: The Castle Quest is an all-new original special coming to Disney+ this August, and the girl power is going to be strong in this one. Gaston better watch his back. Here's everything you need to know.
LEGO Disney Princess: The Castle Quest puts the princesses in the role of rescuers.
Imagine what would happen if Gaston, the hilariously narcissistic baddie from Beauty & The Beast, somehow managed to capture King Triton from The Little Mermaid and steal his magical trident. Not to mention the fact that Gaston, as arrogant as ever, locked the King in a giant aquarium complete with fake plants and everything.
In a trailer for LEGO Disney Princess: The Castle Quest, Gaston has taken over a castle and captured King Triton as the "greatest hunter in the land," and plans to use King Triton's "big fork" to become "ruler of land and oceans." Or at least, that's what he hopes will happen until Ariel, Snow White, Tiana, Rapunzel, and Moana come to the rescue. All of them show up ready to stop Gaston, especially Snow White who inexplicably showed up with an axe.
The princesses join forces in the new Disney+ special.
Unlike some of the Disney princess movies of the past where the women need rescuing, these princesses have shown up to storm the castle themselves. Unless they get distracted by a fruit basket like Rapunzel (Snow White slapping an apple out of her hand and saying, "Don't eat that" was a fun callback), get lost in the forest, or have to deal with handsy pirates. The princesses need to unlock the secrets of the castle to save all of their kingdoms from Gaston. Who knew he would be such a problem?
You'll hear some familiar voices in LEGO Disney Princess: The Castle Quest.
LEGO Disney Princess: The Castle Quest features many of the original voices like Jodi Benson voicing Ariel, Auli'i Cravalho as Moana, Mandy Moore as Rapunzel, Anika Noni Rose as Tiana, and Richard White as Gaston. New voices include Katie Von Till as Snow White, Corey Burton as Magic Mirror, and Jim Cummings as King Triton.
When does LEGO Disney Princess: The Castle Quest premiere?
LEGO Disney Princess: The Castle Quest is coming to Disney+ on Friday, Aug. 18.
While you wait for the Disney princess to storm the castle, why don't you put together a Disney LEGO castle of your own? Maybe you'll find some secret passageways where the dastardly Gaston is hiding.