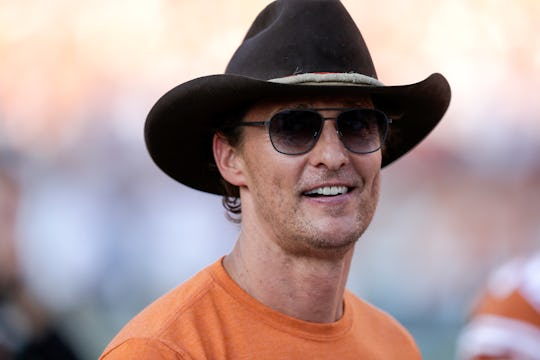 Tim Warner/Getty Images Sport/Getty Images
Matthew McConaughey's Yellowstone Spinoff Is Happening, So Saddle Up For More Drama
The actor already goes way back with one of Yellowstone's fan-favorite characters.
All right, all right, all right. Folks, Hollywood's favorite Texan Matthew McConaughey is set to star an upcoming extension of Yellowstone. Details are incredibly scarce at the moment, but executives at Paramount confirmed the actor is indeed joining Taylor Sheridan's ever-growing Yellowstone universe.
In a recent chat with The Hollywood Reporter, Paramount president and CEO Chris McCarthy confirmed that McConaughey is "lined up to star in a Yellowstone extension." What McCarthy means by "extension" remains unclear. Sheridan has already released two Yellowstone prequel series about the Dutton family: 1883 with Tim McGraw and Faith Hill, which ended after one season, and 1923, which stars Harrison Ford and Helen Mirren, and has already renewed for Season 2. Another Yellowstone spin-off series, 6666 about the Four Sixes ranch in West Texas, is also in the works.
Chatter about McConaughey joining the Yellowstone franchise started back in February. Deadline reported at the time that Yellowstone's star and Dutton family patriarch, Kevin Costner, may be leaving the series due to "disagreements over shooting schedules" and that Yellowstone Season 5 could be the last. Deadline also reported that the series starring McConaughey is "expected expected to include several of the big stars" from Yellowstone. So it seems possible McConaughey's series could take place in the modern day.
Speaking with The Hollywood Reporter recently, McCarthy didn't share any updates about Costner's plans for Yellowstone or the series as a whole, but said the Western drama "wouldn't be what it is today without Kevin and we hope that that stays for a long time to come."
As for McConaughey, despite being fond of cowboy hats, his strong Texas accent, and love of horseback riding, the dad of three with wife Camila Alves has some history with the Yellowstone cast. Back in 1993, McConaughey starred in the coming-of-age comedy Dazed and Confused with Cole Hauser, who plays Rip Wheeler in Yellowstone. In the movie set on the last day of school in 1976, McConaughey played David Wooderson, the stoner dude who can't move past his high school days and famously said, "That's what I love about these high school girls, man. I get older, they stay the same age." Hauser starred as Benny O'Donnell, one of the football jocks who was very serious about the sport.
The two actors appear to have remained friends over the years. On March 22, McConaughey shared a photo of him with Hauser to wish the Yellowstone actor a happy birthday. "keep ridin Cole Kenny, happy birthday, Matthew David," McConaughey wrote on Instagram, to which Hauser replied, "Thanks Matthew David. Ridin!"
Whether or not these two will reunite on-screen in some extension of Yellowstone remains a mystery. But what we do know is that McConaughey's spin-off is officially happening and the Dutton family drama is only going to get more intense.