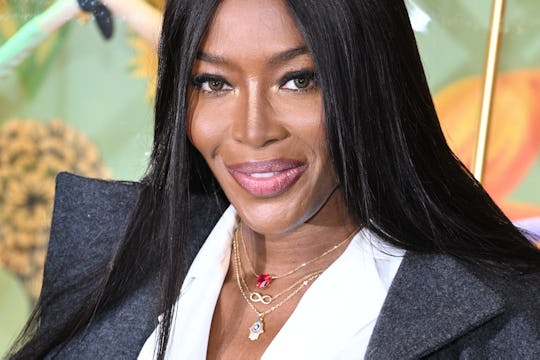 Stephane Cardinale - Corbis/Corbis Entertainment/Getty Images
Naomi Campbell Just Posted New Photos With Her Daughter & Revealed Her Cute Nickname
The supermodel welcomed her little girl in May of 2021.
Ever since Naomi Campbell became a mom in 2021, she's been extra protective of sharing photos of her daughter. But, like so many other moms, every once in a while there's just a moment that needs to be shared. Like a special New Year's Eve spent with friends. Campbell took to her Instagram after the holiday weekend to share some rare photos of her little girl, or as the proud mom calls her, "my little bean."
Campbell first announced that she had become a mom in May 2021. "A beautiful little blessing has chosen me to be her mother," she captioned the photo shared on both Twitter and Instagram. "So honoured to have this gentle soul in my life there are no words to describe the lifelong bond that I now share with you my angel. There is no greater love."
The British model has not yet shared her daughter's name with the world, although the two did pose together for the cover of British Vogue in early 2022 and shared a bit of background about her daughter's life with her mom. And now, Campbell is sharing new photos of her sweet girl, including one of the two of them snuggling on the beach.
"Happy New Year! Darlings May God keep you and your family happy and healthy throughout the year," Campbell captioned the post. "May God's presence never leaves your heart. To each new chapter of your life, may the Lord grant you His grace and strength in 2023 Happy New Year! Thank you @urmarkarmani @nadaadellex for your embrace of my little bean and I."
The proud mom also shared a photo of her daughter from her Christmas party where everyone wore matching red pajamas, although she was careful to cover her little girl's face with a heart emoji to protect her privacy. It seems the two of them have had a full calendar of holiday events, but fortunately for Campbell, her daughter is apparently pretty easygoing.
"I'm lucky my little one loves to travel like me — no whimpering taking off or landing," she told Vogue last year. "She's a good girl: she sleeps very well, she hardly ever cries and I'm told she's very alert for her age. She's just started waving, which is fun. She laughs a lot. She's almost talking ... I think she might walk before she crawls. And she's got six teeth already."
Naomi Campbell's life is clearly filled up with her little girl. And all of the joy she's bringing along with her.