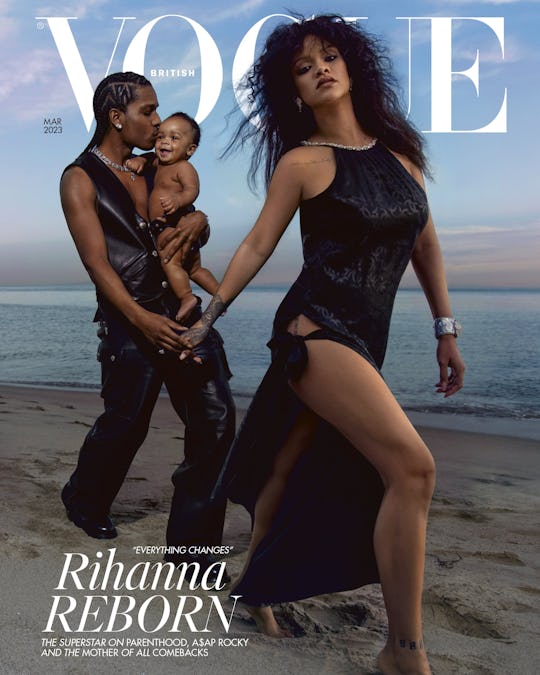 British Vogue
Rihanna's Baby Boy Is On The Cover Of Vogue
That smile! Those squishy cheeks!
Rihanna is big on surprises. First, she delivered a jaw-dropping halftime performance at Super Bowl LVII that transported us all back to our clubbing days circa 2016. And during that, she stirred up a whole bunch of speculation online and then promptly confirmed, through her rep, that she's pregnant with her second child. And now, she just graced the cover of British Vogue alongside her partner A$AP Rocky and their 9-month-old son, whose name is still a mystery, and revealed a whole bunch of details about her life as a mom.
For British Vogue's March 2023 cover, the "Diamonds" singer posed for a slew of gorgeous photos with her family and chatted about all things motherhood, her "beautiful" birth experience, and more. Rihanna, who gave birth to her son in May 2022, shared with the magazine that her first months as a mother have been "legendary" and "everything," but admitted that she felt like a "zombie for the most part" when they first came home from the hospital.
"You really don't remember life before, that's the craziest thing ever," she told British Vogue of becoming a parent. "You literally try to remember it — and there are photos of my life before — but the feeling, the desires, the things that you enjoy, everything, you just don't identify with it because you don't even allow yourself mentally to get that far, because… Because it doesn't matter."
The family of three (soon to be four!) look happier than ever in their baby boy's first-ever magazine cover. In one cover image, Rihanna is strutting down the beach as A$AP Rocky holds their smiling son in his arms and smooches him on the cheek.
Rihanna also opened up about her and A$AP Rocky's approach to how and when they want to share photos of their baby. "We get to decide as parents when and how we do that. End of story," she told British Vogue. "Throw me to the wolves. Do what you want with me. But he doesn't have a say in any of this. We've been protecting him thus far and you don't have any consent to be posting photos or selling photos of my child, a minor. Get the hell out of here with that."
On the couple's own terms, following an experience with the paparazzi taking unauthorized photos of their son, their little boy made his debut in December 2022 in an adorable video on Rihanna's TikTok. That same month, the "Lift Me Up" singer also chose to exclusively share several photos of their son with Hollywood Unlocked. "She wanted BLACK MEDIA to be the one to do it since she wasn't going to be given the choice," Hollywood Unlocked CEO Jason Lee explained on Twitter at the time.
At 9 months old now, the Barbados native's little boy has gotten a bit bigger and, as she told the magazine, he's sleeping through the night now. But that doesn't mean she is; in fact, she takes advantage of those heavenly quiet hours in the best way possible. "No, I'm up [in the middle of the night]. I'm like, 'OK, time to watch some Housewives.' These are my hours," she told British Vogue.
In the caption of one especially cute photo of her son from the photo shoot, the proud mom wrote, "my perfect baby!!!" Sure, we might not know his name, but it's true: he's perfect.