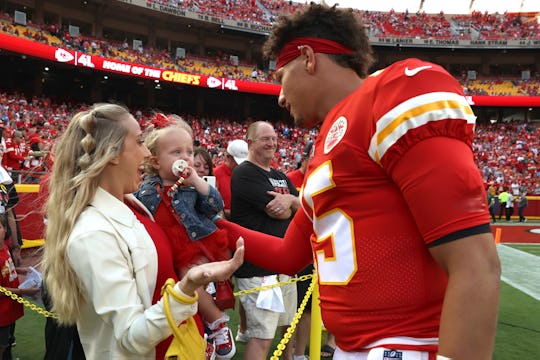 Jamie Squire/Getty Images Sport/Getty Images
Patrick Mahomes' 2-Month-Old Son Bronze Wore The Tiniest #15 Jersey To Cheer On His Dad
It's never too early to get your kids into sports. Or at least sports fashion. Kansas City Chiefs' Patrick Mahomes and his wife Brittany already have their 2-month-old son Bronze showing his support for his dad's team in a tiny #15 football jersey, and it's probably the cutest thing we've ever seen.
The couple welcomed their baby boy on Nov. 28, naming him Patrick "Bronze" Lavon Mahomes III and making 2-year-old daughter Sterling a big sister. While Sterling has long joined her mom in supporting her dad by wearing the Chiefs' colors of yellow and red ahead of game day, little Bronze had his first public Chiefs moment. Well, public via his mother's Instagram Story at any rate.
Baby Bronze wore a teeny tiny Chiefs football jersey emblazoned with dad Patrick Mahomes' #15 across the back, pairing it with a pair of grey fleece pants. His face was not visible as he was laying on his belly and wearing a cute red hat to match his jersey. His mom captioned the post "We ready."
Big sister Sterling wore her own tiny version of her dad's jersey to a Jan. 9 game complete with red and yellow hair ties, sneakers, and red pants. Clearly the Mahomes have every intention of being a full-on football family, especially where the fashion is concerned.
Whether or not the couple will encourage their kids to actually play football is another subject all together. In October Patrick Mahomes sat down for an interview with Football in America about how he might plan to influence his kids' choices about playing sports. "I think that's the best thing for me,: he said at the time per People. "I'm going to help teach my son, my daughter, all the fundamentals and whatever they want to learn. But at the same time, I want to stay out of the way and let it be about them."
He may not plan to influence his kids too much when it comes to playing sports, but with all of those adorable options for supporting him through fashion... how could he and his wife possibly resist?