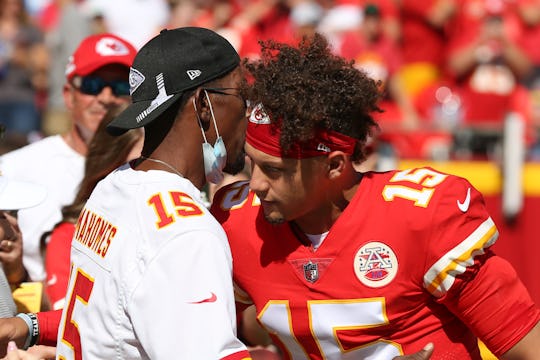 Icon Sportswire/Icon Sportswire/Getty Images
Patrick Mahomes' Dad Had Other Athletic Plans For His Son, Believe It Or Not
The Kansas City Chiefs quarterback is apparently a talented baseball player, too.
When Patrick Mahomes hits the field on Super Bowl Sunday, he'll be the one to watch. The Kansas City Chiefs quarterback has become a serious legend in a game full of legends, and to become that person he needed to have lots of support at home. Support that started with his parents, Pat and Randi Mahomes, who make it clear that they are fully dedicated to their kids. Here's what else you need to know about the football pro's mom, dad, and siblings.
His dad Pat Mahomes was an MLB pitcher.
If anyone was curious about where Patrick Mahomes got his athletic talent, look no further than dad Pat Mahomes. He was an MLB pitcher, starting his career with the Minnesota Twins in 1992 before playing for the New York Mets in the mid-90s. And it was a formative experience for his then-4-year-old son Patrick. "I just remember him being so excited to go to the yard every day," Pat Mahomes Sr. said in an interview with the New York Post, referring to Shea Stadium. "I'd have to hold him back just so I could get in the car before we left because he was ready to get out there."
Pat grew up in Lindale, Texas, a state that would lead him to his future wife.
His mom Randi was a kindergarten teacher from Texas.
Mahomes' mom Randi started out as a kindergarten teacher in the small eastern Texas town of Troup. She went through all of her own school years there, eventually meeting Pat Mahomes straight out of high school before becoming a kindergarten teacher herself, according to her website. Her own siblings and parents still live in her family home in her small town to this day, while Randi has moved on to become an event planner and something of a momager with her QB Producer branded content.
Patrick Mahomes was born in 1995.
Randi was just 19 years old when she welcomed her first baby, son Patrick, in 1995. She wrote on her website that she didn't "intend" to become a young mom, but "put her personal plans aside, grew up quickly and focused on being the best mom she could be to Patrick." Which obviously paid off quite well.
Pat wanted his son to play baseball.
Patrick Mahomes was a gifted athlete who excelled at baseball, football, and basketball in high school. And dad Pat was really hoping he would land on baseball. "He grew up in the clubhouse, he was always around the game, and he was always the best player on his baseball team," Pat told the Los Angeles Times of his son. "He was an unbelievable shortstop, he always led his team in hitting, and he threw 97 mph on the mound, so I always thought he was gonna be a baseball player."
He even admitted that he tried to get his son to quit football for the sweetest reason. "I didn't want him to get hurt."
His brother Jackson joined the family in 2000.
Patrick Mahomes became a big brother in 2001 when Pat and Randi Mahomes welcomed their second, and last, child together. While Jackson did not follow his older brother into football, he's certainly famous in his own right. Jackson Mahomes has more than a million followers on TikTok and 274,000 followers on Instagram, with much of his content focused on reacting to his brother's games.
Pat and Randi Mahomes divorced in 2006.
After welcoming their two sons, Pat and Randi went on to divorce in 2006. "Married life with a professional baseball player is a hard life and took a toll on their relationship which lead to divorce," Randi explained on her website before adding that she and Pat "are friendly to this day" with both parents often on the sidelines at their son's games.
Randi welcomed a daughter, Patrick's sister Mia, in 2011.
Randi welcomed daughter Mia Randall in 2011, the first daughter in the family. Mia is apparently a heck of an athlete herself, with Randi sharing a photo of her proudly showing off her "awesome athlete" award on Instagram in 2021.
Zoe Mahomes was born in 2015.
Pat Mahomes welcomed daughter Zoe in 2015, and just like her dad and half-brother she's already an athlete as well. According to her Instagram she's a basketball player and a soccer player, and of course she counts herself as a big Kansas City Chiefs fan.
Pat and Randi now share two grandchildren.
Now that Patrick Mahomes is a dad of two himself with wife Brittany, 2-year-old daughter Sterling and baby boy Pat "Bronze" Mahomes, Pat and Randi have two grandchildren to share as well. And of course, a son to cheer on in the Super Bowl this year. Something Randi always knew was within her son's grasp. "I knew when it came to sports, he was going to be able to reach whatever level he wanted," she told Fox in 2020. And she's not wrong about that.