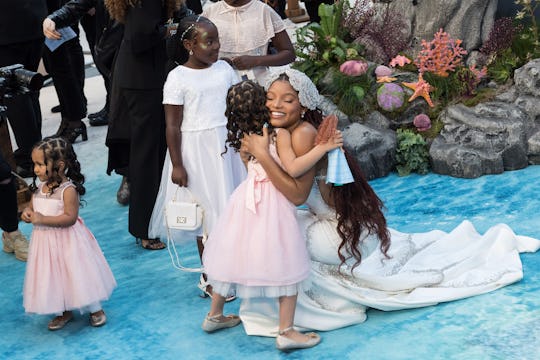 Anadolu Agency/Anadolu Agency/Getty Images
Halle Bailey Had The Sweetest Moment With Young Little Mermaid Fans At The Premiere
One was even carrying her own Barbie doll fashioned after Bailey's version of Ariel.
Disney's live-action version of The Little Mermaid has not yet hit theaters, but already little girls are seeing Halle Bailey as Disney princess Ariel. Especially a group of little girls who met Bailey at the UK premiere of The Little Mermaid and looked adorably awestruck in their own princess dresses. One even carried her own Barbie fashioned after Bailey's version of Ariel, and it was a sweet reminder of how much little girls of color needed to see themselves represented as Disney princesses onscreen.
Bailey was at the Odeon Luxe Leicester Square in London for the UK premiere of The Little Mermaid, which opens in theaters on May 26, when some little fans approached her on the ocean blue carpet. All four girls were dressed up for the occasion, with one of them carrying her very own Ariel Barbie doll. This Barbie was fashioned by Mattel after Bailey's portrayal of Ariel, with the same skin tone and long hair and other characteristics. As you can imagine, the girls looked beyond excited to be so close to the real-life Ariel, who looked like a mermaid in a sequined white dress and a head piece that looked like a seashell. And to her credit, she looked just as pleased to meet them and pose for photos.
Anadolu Agency/Anadolu Agency/Getty Images
Kate Green/Getty Images Entertainment/Getty Images
Kate Green/Getty Images Entertainment/Getty Images
Karwai Tang/WireImage/Getty Images
The sweet blue carpet moment was special for Bailey too, who took to Twitter to share a photo with the four little girls with the caption, "who I do this for."
Bailey's portrayal of Ariel has been earning her young fans from all over the world. When she was at Disney World, a little girl named Mila wrapped her arms around Bailey for a hug and refused to let go. And a Delta pilot wrote Bailey a note about how much the role meant to her as a "young Latina pilot," writing, "Miss Bailey, it is an honor to have you on board today. Thank you for being an inspiration to little brown girls all over the world, like we were a few years ago."
The young star takes the responsibility that comes with her new role very seriously and is particularly proud of this updated version of Ariel who wants more than romance in her life. "I'm really excited for my version of the film because we've definitely changed that perspective of just her wanting to leave the ocean for a boy," Bailey told Edition in March. "It's way bigger than that. It's about herself, her purpose, her freedom, her life and what she wants."
Disney princesses hold so much power for young fans. And it's so wonderful to see them being inspired by someone who represents an updated version of an old classic.