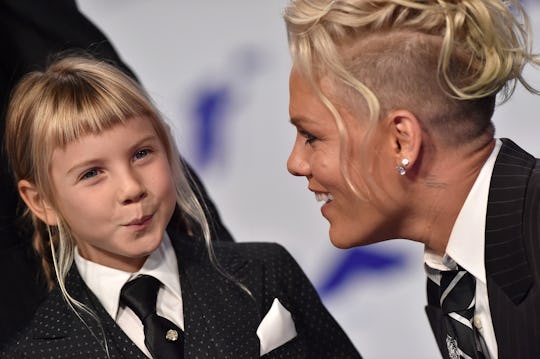 Axelle/Bauer-Griffin/FilmMagic/Getty Images
Pink Hired Her 11-Year-Old Daughter Willow & Is Teaching Her How To Negotiate Her Pay
The "What About Us" singer gave her daughter a job on her upcoming tour and is using the opportunity to teach her a valid life skill.
As Pink prepares to head out on tour this summer, she's already focused on getting her tour crew together. And this year that crew will include her 11-year-old daughter Willow. The Grammy award-winning singer has hired Willow to work on her tour this summer, and one of the first things she was concerned about doing was making sure Willow understood how to negotiate her own salary.
The "What About Us" singer spoke to TODAY on Tuesday about hiring her daughter, who she shares with husband Carey Hart along with their 6-year-old son Jameson, to work on her Trustfall tour this summer. "Willow has a job on tour," Pink told TODAY before explaining that she used the moment as a teachable opportunity. "We just had to go over minimum wage and it's different state to state."
The mom of two went on to tell her daughter that minimum wage is "about $22.50 a show depending how long I go, if I run over." Willow stepped in to negotiate, but didn't quite get it. "She goes, 'I'll take $20. It's easier to do the math.' I'm like 'That's not how you negotiate for yourself.' I'm like, 'You'll take $25 so it's easier math."
The singer has worked with daughter Willow in the past so I doubt she needed to see her CV before hiring her. Willow joined her mom to sing a Christmas duet on Ryan Seacrest's Disney Holiday Singalong special in December 2020, showcasing her amazing pipes so much like her mom. In May 2021, Willow performed an incredible acrobatic show with her mom to Pink's song "Color Me In Sunshine," both of them sporting matching blonde spiked haircuts, and wowed everyone yet again.
Whether or not Willow will be performing on tour with her mom in her capacity as tour crew member remains to be seen, but if she does I think she should ask for a bit of a raise. Although to be fair, Pink does a whole lot for Willow in return. Like promoting her daughter's concert performances on her Instagram page to her 9.2 million followers, for instance. Not that Willow is terribly concerned. Pink told TODAY that Willow can "sing like a bird, it's so effortless" but really doesn't concern herself with practice or being "cool." She gets the job done and then goes off to live her life.
Sounds like she'll be a great little employee.