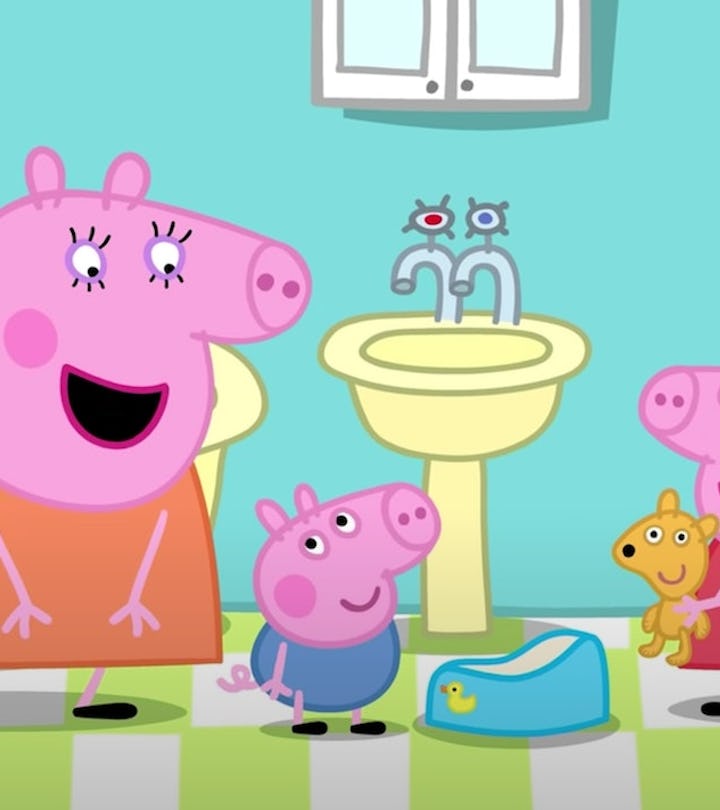 Peppa Pig/ YouTube
10 Kids' Shows With Great Potty Training Episodes
Turn these shows on to motivate your little one.
Potty training can be one of the most (if not the single most) frustrating parts of toddlerhood. It's a huge milestone, and there are so many schools of thought about how best to approach the transition from wearing diapers to using the toilet. There are a number of potty training hacks to try when you reach a plateau — some may work and some may not — but watching kids shows with potty training episodes is a super simple way to help motivate your kiddo.
From potty training apps to smart watch timers and potty training songs to stream, technology can certainly help give you a leg up on the potty training front. But when it comes down to it, the thing that successful potty training really depends on is your child's willingness to use the toilet. What better way is there to get encouragement than from their favorite TV show characters? Think of it as a teaching tool.
Especially if they're upset over accidents, seeing a relatable potty training scene on TV can help ease the stress of it all for little kids. Yes, it's more screen time, but letting your potty training child watch Elmo or Daniel Tiger learn how to go can actually be helpful for them. Here's a look at some popular kids shows with potty training episodes and where to stream them so you can pick your kid's favorite and give it a try.
Make screen time into a useful teaching tool with these potty training episodes. They'll make a potentially stressful time into something that's almost fun.
This article was originally published on