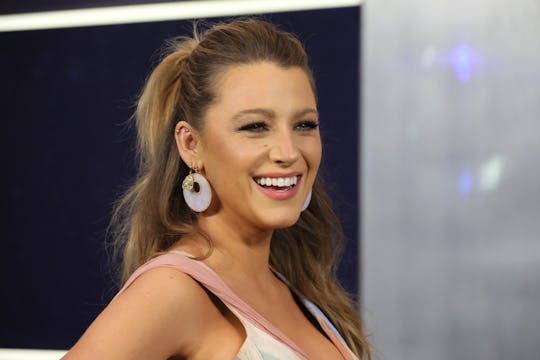 Dia Dipasupil/FilmMagic/Getty Images
Blake Lively Jokes About Her Workout Routine In New Pregnancy Photo Of Her Bare Bump
"Something's not working."
Blake Lively has some questions about her workout routine. The mom of three recently shared side-by-side photos with her trainer after several months of sticking with it, and she is certain that "something isn't working." Perhaps because she's pregnant.
Lively and her husband Ryan Reynolds are expecting their fourth child together, making 8-year-old daughter James, 6-year-old daughter Inez, and 3-year-old daughter Betty big sisters in the near future. Something that should be taken into consideration in her recent tongue-in-cheek post about working out with celebrity trainer Don Saladino.
The Shallows actress shared a photo of herself from her early days of working out with Saladino in leggings and a sports bra compared with a recent photo in a similar outfit, only with a visible baby bump in the second photo. In the first photo, Lively is smiling proudly at the camera, while she is wearing looser pants and looks to be giving her trainer the stink eye in the second. Lively captioned the post "been doing @donsaladino's workout program for months now. Something isn't working." And I really just don't think we can blame her trainer for these results.
If you're worried that Saladino was offended by Lively's inference that his workouts weren't providing results, he clearly gets the joke. He shared her post on his own Instagram with the caption, "Come Train With Me, Results GUARANTEED."
The busy mom and Betty Buzz founder is reportedly due to give birth "very soon," according to her husband Ryan Reynolds, and life will of course become even busier with four children in the home. Possibly even four little girls if Reynolds gets his preference. The couple have not shared a specific due date or the sex of their fourth baby, but Reynolds has admitted that he might want another daughter simply because he's familiar with being a girl dad. "I know girls so I'm sort of kind of hoping that, but I'm ready for whatever happens," he explained in November of last year.
Lively seems to be ready for whatever happens as well. While Reynolds has not yet been preparing a whole lot for the birth of his fourth baby, he did tell Kelly Clarkson in December that he "shouldn't speak for my wife because she's in it to win it right now. She's ready."
Maybe those workouts have gotten her ready for baby after all.