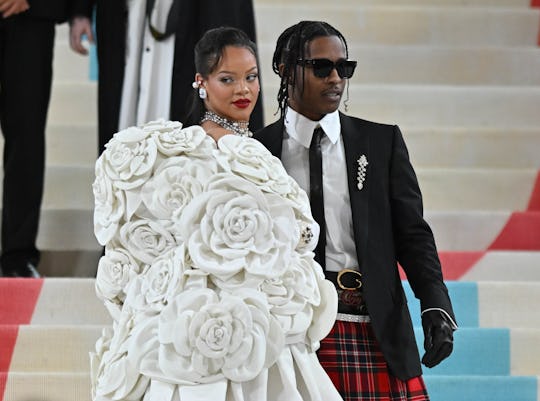 NDZ/Star Max/GC Images/Getty Images
Rihanna Made Sure Her 10-Month-Old Son Stayed "Far Away" From Her White Met Gala Dress
"We had to keep him far away."
Rihanna and A$AP Rocky really took over the Met Gala on Monday night. Sure, she showed up fashionably late but the Met Gala is all about fashion so that actually sort of tracks. When she finally arrived at the Metropolitan Museum of Art, her dress was just as stunning as you might imagine. A pristine white Valentino dress topped off by an incredibly white hooded cover with giant flowers from the same designer. The kind of outfit that makes a person nervous to eat or drink anything that might leave a stain. No wonder the pregnant mom said she had to keep her 10-month-old son "far away" from her ethereal Met Gala look. Babies are way too sticky for that kind of outfit.
The "Lift Me Up" singer arrived on the steps of the Met Gala looking every bit as iconic as ever and, it has to be said, her outfit was clean as a whistle. Because she clearly had respect for the level of craftsmanship that went into her dress. "Each of these flowers took 30 hours," she told Access Hollywood in a red carpet interview, adding that she "really only came because I love my dress." She loved it so much, in fact, that she even made an effort to protect the dress from the hands of her beloved baby boy. When asked what he thought of the dress, she said: "Oh we had to keep him far away. This is white. He's a boy."
Truly enough said.
Rihanna also opened up about how "fun" it was to be at the Met Gala as a pregnant woman, although she did admit feeling "a little guilty that my firstborn isn't here." Considering he wouldn't be able to come anywhere near her in that dress, it's probably a good idea that he stayed home.
Whether or not her little one, whose name she has decided not to share, will be jealous is anyone's guess. Certainly when she was heading off to the Oscars in March, the little boy looked super irritated that his new sibling would be going to the huge awards show while he had to stay home.
He should feel comforted knowing that in a few short months, Rihanna will probably be leaving both kids behind when attending gala events. Two sets of sticky fingers are worse than one after all.