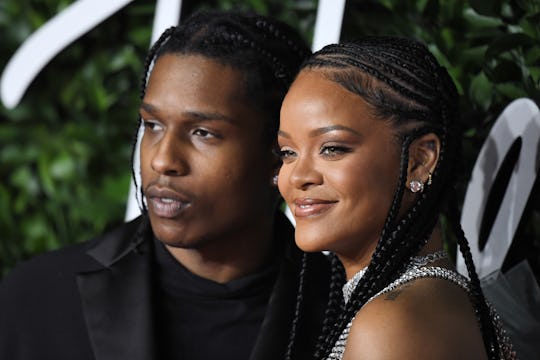 WWD/Penske Media/Getty Images
Rihanna Shared A Hilarious Photo Of Her Son Having His First Taste Of Sibling Rivalry
Can you blame him? His mom is heading to the Oscars without him!
Rihanna's son might not yet be even one year old, but he's already getting his first dose of sibling rivalry. And who could blame him? His mom is heading to the Oscars without him, but since she is pregnant with her second child, his unborn sibling will get to be in attendance. So we totally get why he looks so adorably annoyed in a new photo Rihanna shared on social media.
The expectant mom has been nominated for an Academy Award for Best Original Song for "Lift Me Up" from Black Panther: Wakanda Forever, her first Oscar nomination ever. It's a big deal for the singer in a year of big deals. She and partner A$AP Rocky welcomed their first child together, a baby boy whose name they've chosen not to share, last May. And just months later, Rihanna revealed that she's pregnant again during the halftime show at the 2023 Super Bowl in February.
Now that she is expecting her second child, Rihanna is experiencing that all-too-familiar push/pull of being a mom to multiple kids. Even when one of those children is still in utero. On Sunday, she shared a photo of her little boy looking less than impressed while reaching up for her. "My son when he found out his sibling is going to the Oscars and not him," she captioned the post.
Some of Rihanna's followers totally get why he would be irked. "I'd be pissed too, the other sibling got to appear as a special guest at the Super Bowl and now The OSCAR?!" wrote one user, perhaps forgetting that Rihanna's son did get to do a full Vogue cover shoot with his mother and father. Another fan had a solution, writing "girl bring our nephew to the Oscars!"
Rihanna also shared a throwback video of her baby boy sitting on his dad's knee in front of a laptop, getting super excited watching her perform. Which really just feels like pouring salt into a fresh wound since he's obviously already a Rihanna fan and would probably love to see her perform live. Who knows if his baby sibling is even a fan yet?
To be fair to Rihanna, bringing her son to the Oscars is not very realistic, especially if we all expect her to perform and we absolutely do. Perhaps in 18 years or so he can come along. Without his little sibling, that should even things out.