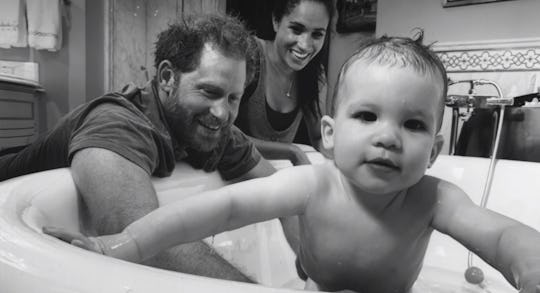 Netflix
Prince Harry Was Pleasantly Surprised That Archie & Lilibet Got The "Ginger Gene"
Anyone who has started to read Prince Harry's memoir Spare is probably already well aware that he identifies strongly with being a so-called "ginger." Many a paragraph was dedicated to his red hair, his red beard, his essential ginger-ness. And yet, he was very surprised when his two children carried on the physical trait that appears to have so defined him. In a recent interview with Stephen Colbert, Prince Harry admitted that he was surprised when both his 3-year-old son Archie and 1-year-old daughter Lilibet with wife Meghan Markle inherited his own red hair. A trait he believes was passed down through his mother Princess Diana's side of the family.
During his interview on The Late Show, Colbert shared a photo from 2021 featuring a picture of Prince Harry's family. "Your daughter, Lilibet, your son, Archie, of course your wife, Meghan. Your daughter Lilibet is named in her honor," Colbert said, referencing Prince Harry's late grandmother Queen Elizabeth, whose family nickname was Lilibet. "Having children helps us remember those that we've lost. Do you see your mother or your grandparents in any of your children?"
"Definitely my mum. The ginger gene is a strong one!" Prince Harry responded. "The Spencer gene is very, very strong." The Spencer family are well known for having a strong red-haired gene, with Prince Harry's uncle Charles, Earl of Spencer, two aunts, Lady Sarah Fellowes and Lady Jane McCorquodale also being gingers, and even Princess Diana herself having red hair as a young girl.
He went on to point out that he hadn't been sure if his own red hair would be inherited by his children. "I actually really, genuinely thought at the beginning of my relationship [with Meghan] that should this go the distance and we have kids that there's no way the ginger gene will stand up to my wife's genes, but I was wrong!"
Prince Harry seems fairly pleased to see the Spencer line of red-heads continue because he added, "Go gingers!"
Whether or not Lilibet and Archie continue to be redheads as they grow remains to be seen. Certainly in video footage of the two Sussex children shared in the Netflix documentary Harry & Meghan, Archie's hair looks to be darker now.
Regardless of whether or not Prince Harry's children continue on as gingers, they'll certainly carry on the Spencer gene. Something their grandmother Princess Diana would be proud to see.