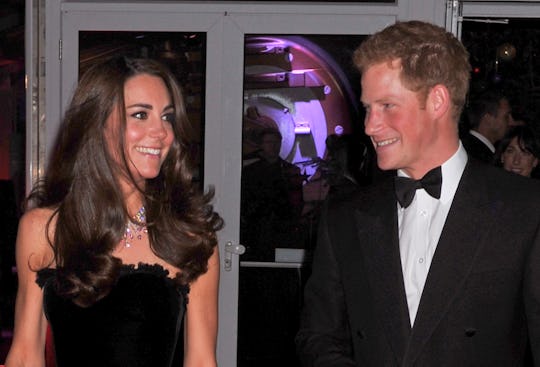 Anwar Hussein/Getty Images News/Getty Images
Prince Harry Once Gave Kate Middleton A Furry Thong As A Gag Gift
What future queen wouldn't want that?
By the time Prince William married Kate Middleton in 2011, the two had known each other for a full decade. So it stands to reason that her new brother-in-law Prince Harry knew her really well by the time he stood up to give his speech as best man at their wedding — well enough to know that she would laugh at the gag gift he presented her with during that speech. Otherwise he was really taking his chances because the gift he handed her was not exactly something you'd expect a royal prince to hand his future queen.
During his speech as best man at his brother's 2011 wedding, Prince Harry read letters from royal fans around the world who sent their best wishes to the couple. Including a "letter" from one American fan who wrote that he tried to capture 1,000 weasel-like animals called stoats to try to make a special garment for Middleton, according to The Mirror. The alleged royal fan noted that he had only captured two stoats, which were exactly enough to make a furry thong for the Princess of Wales.
"Wedding guests, bemused and amused in equal measure at the story, were left even more shocked when Harry pulled the thong out from his pocket and brandished it in front of Kate," noted The Mirror. What do you get for the girl who has everything? A furry thong, apparently.
Fortunately for everyone, not only did the wedding guests laugh at the gag gift, Middleton herself reportedly burst out laughing and took it in stride. Perhaps because she was already well-versed in Prince Harry's penchant for gag gifts. Like when he gave his beloved grandmother, the late Queen Elizabeth II, a shower cap for Christmas emblazoned with the message "Ain't Life A B*tch" across it.
And to be fair, Kate Middleton is not above giving a gag gift or two herself. She once gave Prince Harry a "Grow-Your-Own-Girlfriend" kit for Christmas, before he met his wife Meghan Markle.
While Prince Harry appears to be estranged from the rest of the royal family these days, hopefully he and Kate Middleton will be able to get together and mend some fences in the near future. Simply so he can ask her if she kept that furry thong.