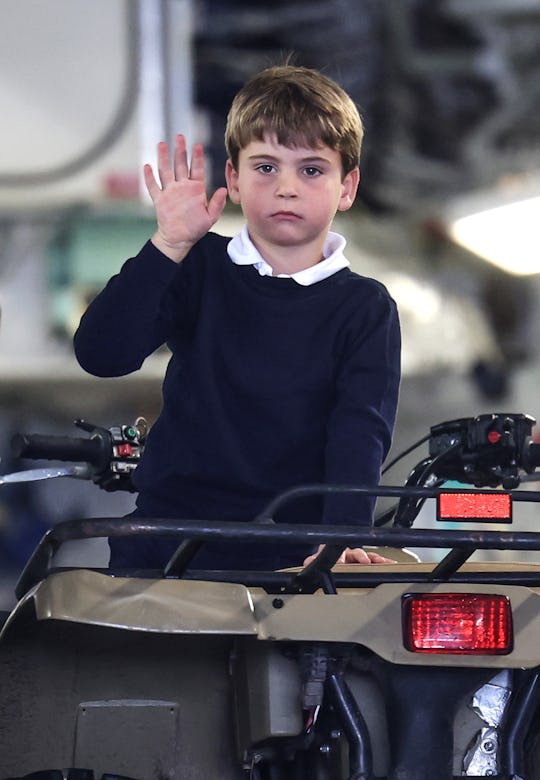 Chris Jackson/Chris Jackson Collection/Getty Images
Prince Louis Wants To Be A Fighter Pilot When He Grows Up & Got To Tour Some Cool Planes
The Prince and Princess of Wales are keeping their kids busy during summer break. On Friday, Prince George, 9, Princess Charlotte, 8, and Prince Louis, 5, joined their parents to visit the Royal International Air Tattoo at the Royal Air Force (RAF). Everyone looked like they were having a blast in photos from the outing, but perhaps Prince Louis had the most fun. After all, Kate Middleton and Prince William's youngest wants to be a fighter pilot just like his dad when he grows up and got to the spend the day at an air show looking at all sorts of jets and planes.
At the air show, the family toured the C-17 Globemaster III, which is the plane that carried the late Queen Elizabeth's coffin to back to London from Edinburgh, Scotland following her death last September, according to the BBC. The visit was also significant for the family as Prince William has a special connection to the RAF. In his 20s, Prince William trained to become a helicopter and fighter pilot and then went on to serve as an RAF air ambulance helicopter pilot for several years.
"The moment I started the helicopter training, I realized that it was better than anything. It was one of those things that I just instantly took to and thought, 'This is really cool.' I really enjoy it," Prince William said in 2021 on an episode of Apple Fitness+'s Time to Walk series, adding that it was oftentimes a "difficult" job and he felt he would take home "people's trauma" and "people's sadness."
Prince William's pilot experience has undoubtedly inspired his youngest child's future career plans. In May, during a volunteer event in honor of King Charles' coronation, Prince Louis revealed his dream job is to follow in his dad's footsteps. As The Mirror reported, when one volunteer asked Prince Louis, "You might want to be a painter when you grow up?" the young royal replied, "No, a fighter pilot."
So no wonder Prince Louis looked totally in his element at the RAF air show.
Of course, Prince Louis is only 5 years old and he may very well change his mind. But considering that his favorite superhero is Spider-Man, he sure seems keen on saving the day.