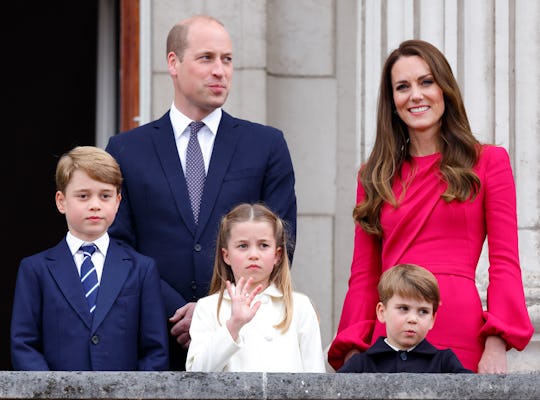 Max Mumby/Indigo/Getty Images Entertainment/Getty Images
Prince William Cracking Up With His Three Kids In This Candid Photo Is Too Adorable
It looks like Princess Charlotte started it...
Prince William takes his royal duties seriously, but he also likes to have fun with his kids. Prince George, 8, Princess Charlotte, 7, and Prince Louis, 4 — whom he shares with wife Kate Middleton — are a delightful trio who have unintentionally sparked a viral moment or two at royal events. But on Father's Day, even royal dads get a break from being strict parents. The Duke of Cambridge embraced his kids' silly side by sharing the most amazing photo, and it's impossible not to smile when you see it.
The Duke and Duchess of Cambridge shared a candid outtake photo from the family's Christmas card photoshoot. If you'll remember, they had a photo inside a cave, which was taken on holiday in Jordan. You can tell from the mountains in the background and the same outfits on Prince William and his kids that this new photo was taken from the same time, although this is their first time sharing it.
In the photo, Prince Louis is sitting on Prince William's shoulders, with his hands holding his dad's ears to stay steady. His head is tilted back, and his smile shows off a mouth full of baby teeth. He's smiling so big, in a way that 4-year-olds can only do when it's natural. Prince George is on his dad's left, with a hand on his dad's knee and Prince William's arm around his shoulders. His face was captured mid-laugh as well, with mouth wide open and joy that reaches his eyes.
For a clue as to what was so funny, look to Prince William's right, where Princess Charlotte is sitting. She is grasping a pair of pink sunglasses in her hands, and her mouth is open wide in a cross between a scream and a laugh. The gleam in her eye gives away that she isn't angry or throwing a fit, she's simply shrieking to get her brothers' attention — and it definitely worked.
For his part, Prince William has a laidback smile on his face. He's clearly enjoying his fun children, which is such a joy to see.
"Wishing a Happy Father's Day to fathers and grandfathers across the world today!" the Duke and Duchess of Cambridge captioned the photo. Fans were commenting their love for the adorable snap, including one person who wrote, "Gorgeous photo! Louis is just adorable 🤗." Another said, "This is such a lovely photo! Happy Father's Day." "The pure joy on these faces! 😍 Happy Father's Day!" added another.
You can't tame your kids' spirits, so just celebrate it instead!