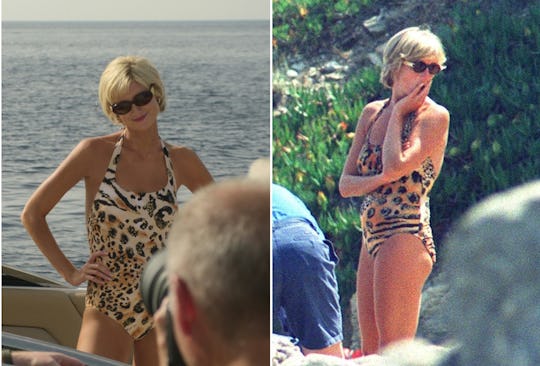 Netflix/PATRICK HERTZOG/AFP/Getty Images
Here Are The Real Photos Of Diana On Vacation That Inspired Those Scenes In The Crown
The Princess of Wales did indeed have a little chat with paparazzi on a boat.
The sixth and final season of The Crown got off to an emotional start by depicting Princess Diana's final weeks before her death in August 1997. At the time, Princess Diana was newly dating Dodi Fayed, son of Harrod's owner Mohamed Al-Fayed and famously spent time on Al-Fayed's yacht in the south of France that summer with 12-year-old Prince Harry and 15-year-old Prince William. She was being constantly followed by the paparazzi, and is seen confronting photographers in The Crown in an effort to get them to leave her sons alone so they could enjoy their holiday. Which, according to photos taken of the princess at the time, appears to be at least somewhat based on a real event.
Season 6, Part 1 of The Crown saw Princess Diana (played by Elizabeth Debicki) vacationing off the coast of Saint-Tropez with her sons, Prince Harry and Prince William (played by Fflyn Edwards and Rufus Kampa, respectively), on Al-Fayed's yacht. If The Crown is to be believed, Prince William in particular was struggling to have a good time on his holiday because of the constant presence of the paparazzi. And so, Princess Diana decided to throw on a swimsuit and jet over to the photographers to pose for some shots in an effort to get them to leave.
The Crown's version...
"Enjoying your holiday?" a member of the paparazzi asks Princess Diana in The Crown when she is seen approaching them on a boat, and she replies. "Yes, we're having a lovely time, apart from one little thing, you lot. Seriously, how long are we going to have the pleasure of your company? The attention is starting to freak out the boys."
She offered the paparazzi a "surprise" if they would leave her sons alone as they snapped photos of her. And while we don't know if the real Princess Diana offered them a surprise, she absolutely did confront them that summer.
How it looked in real life...
A year after Princess Diana's death in a car crash in Paris, journalist and biographer Sally Bedell Smith wrote about the royal's relationship with the paparazzi for Vanity Fair — in particular, that fateful summer in the south of France. "On a holiday in July 1997 with her boyfriend Dodi Fayed and his family in Saint-Tropez," Bedell Smith wrote at the time, "she first eluded paparazzi by crawling along a balcony and hiding behind a towel, then surprised a contingent of British tabloid reporters and photographers ... by addressing them from her motorboat in a fetching leopard-print bathing suit. 'You will have a big surprise coming soon, the next thing I do,' she teased, and implied that she was thinking of living abroad."
This wasn't the only moment that the Netflix series recreated from Princess Diana's holiday that last summer. Princess Diana was also seen in a super colorful swim suit, hanging out on the beach with her sons. A scene The Crown pulled off perfectly.
The Crown's version...
How it looked in real life...
In real life, most of the photos from that moment were taken with Princess Diana spending time with her sons on the yacht, even wrapping her son Prince Harry up in a big hug while wearing the iconic swimsuit.
Princess Diana was also photographed sitting on the diving board of Al-Fayed's yacht, all alone in a bright blue bathing suit. Looking, some might say, quite lonely.
The Crown's version...
Like the series showed, Princess Diana in 1997 was also seen wearing a bright blue one-piece swimsuit, staring off into space.
How it looked in real life...
While The Crown has certainly done an impeccable job of recreating real-life photos of moments from the lives of royals, it's important to remember that these are dramatized and fictionalized versions of real events. No matter how spot-on they might look to us.