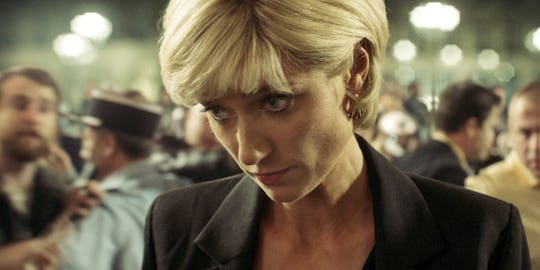 Netflix
Here's What The Crown Got Wrong About Princess Diana's Last Call With William & Harry
"That phone call sticks in my mind quite, quite heavily."
[Note: Spoilers ahead for Season 6 of The Crown on Netflix.]
Princess Diana had one final phone call with her sons, this we know for sure. Both Prince William and Prince Harry have spoken about this in the years since. Their final phone call with their mother that horrible day in August 1997 before she died in a car crash in Paris. This moment, which most certainly still sits with both men, was depicted in Season 6, Episode 3 of The Crown, but did the show get it right?
According to the episode of The Crown entitled "Dis Moi Oui," Princess Diana (Elizabeth Debicki) called Prince William (Rufus Kampa) and Prince Harry (Fflyn Edwards) as she was getting prepared to return to London. They were with their father Prince Charles (Dominic West) at Balmoral for the summer with the rest of the royal family, and she called them from Paris for a chat. The episode saw Princess Diana trying desperately to get to a phone call with her sons as she was in Paris with her then-boyfriend Dodi Fayed (Khalid Abdallah), and finally the three connected for a nice, long chat. Where they discussed Prince William hunting his first stag in the hills of Scotland that day, the boys' concerns that their mother might marry Dodi, and her denial that she had any such plans. A far different phone call than the one Prince William himself has described in years since.
When Prince William and Prince Harry marked the 20th anniversary of their mother's death in an ITV documentary, the future king spoke about the last phone call the two of them shared with their mother. "At the time Harry and I were running around minding our own business, you know, playing with our cousins and having a very good time," Prince William said in 2017. "I think Harry and I were just in a desperate rush to say 'goodbye, see you later, can I go off.'''
Prince William, who is a dad of three himself now, went on to share his regret at how brief the phone call was with his mother. "If I'd known now obviously what was going to happen I wouldn't have been so blasé about it and everything else. But that phone call sticks in my mind quite, quite heavily."
In the same interview with ITV, Prince Harry said he couldn't remember the exact words they shared. "I can't necessarily remember what I said, but all I do remember is regretting for the rest of my life how short the phone call was," Prince Harry, a dad of two now, recalled.
"If I'd known that that was the last time I was going to speak to my mother, the things I would have said to her," the Duke of Sussex added. "Looking back at it now — it's incredibly hard. I have to deal with that for the rest of my life: not knowing that it was the last time I'd speak to my mum, how differently that conversation would have panned out if I'd had even the slightest inkling that her life was going to be taken that night."
Yes, The Crown is a "fictional dramatization" inspired by "real events," so don't expect every detail or storyline to be a totally accurate retelling. But some details are spot-on like Princess Diana's nickname for Prince William, "Wombat."