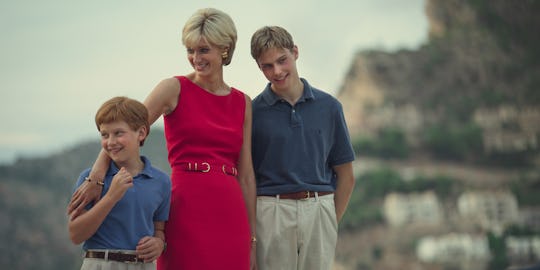 Netflix
The Real Moments From 1997 That Inspired These Scenes From The Crown Season 6
We know it's not a documentary, but these photos are awfully close to the real thing.
Fans of The Crown on Netflix already knew that Season 6, the final in the series, was going to be its most fraught to date. The final season, which will be shown in two parts, will look at the days leading up to the 1997 death of Princess Diana and the fallout that swiftly came after. So it probably won't come as a surprise that several of the first look photos from Season 6 of The Crown are based on some actual photos taken in that same time period. Again, we know it's not a documentary. But these photos are awfully close to the real thing.
The casting team behind The Crown had a massive task on their hands with trying to find actors who could play real life royals who are instantly recognizable themselves. They have had some serious big hits, with many considering the actresses who played Queen Elizabeth throughout her life (Claire Foy, Olivia Colman, and Imelda Staunton respectively) all receiving praise for their performances.
While the performances are all solid in the ensemble cast historical drama, it's a matter of personal opinion as to whether some of the other actors were able to capture the royals they played. Take Dominic West, the actor who plays then-Prince Charles in the '90s, for instance. Here, in a first look photo released by Netflix, he is standing alongside Prince William (Rufus Kampa) and Prince Harry (Fflyn Edwards).
The photo is based on a press photo call at Queen Elizabeth's beloved summer home of Balmoral in Scotland, taken of Prince Charles and his two sons just two weeks before Princess Diana's fatal car crash in Paris on Aug. 31, 1997. The Crown got the outfits right, but some might take issue with how much younger the fictional Prince Harry looks than Prince William. At the time they were 12 and 15 years old.
In Season 6, Elizabeth Debicki returns to play Princess Diana in the days before her death, and she has received rave reviews for somehow managing to channel one of the most famous women on the planet. A first look photo from Season 6 shows Debicki as Princess Diana spending time with her two sons. And this photo, mostly the fashion in it, is also based on a real moment captured from the summer that she died.
Debicki appears to be wearing a replica of the dress Princess Diana wore to Northwick Children's Hospital just one month before her death. While her sons were not with her during this royal visit, it appears as though The Crown will be depicting a moment the three of them shared away from the cameras around that time.
Princess Diana died in that Paris car crash alongside her boyfriend at the time, Dodi Fayed (played by Khalid Abdalla in The Crown). A first look photo shows the couple in the back seat of a car, both wearing sunglasses and looking tense.
There are certainly paparazzi photos of both Princess Diana and Dodi Fayed in a car together, and we suspect this photo is meant to represent the way they were followed by the press during their time together.
We will have to wait to watch Season 6 of The Crown on Nov. 16 to see how these photos and other historical moments play out in the series.