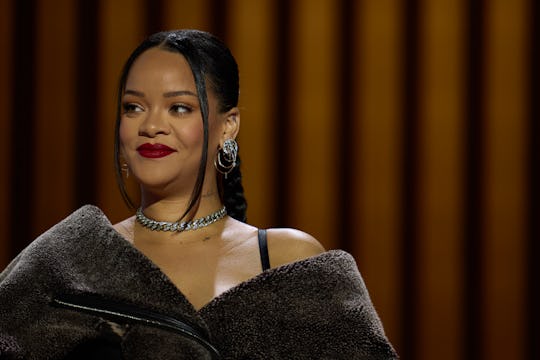 Cooper Neill/Getty Images Sport/Getty Images
People Got Judgy After Rihanna Called Her Baby Son "Fine" & She Couldn't Care Less
"you just keep your lil cougar paws away from him and we good!"
When a mom wants to brag about her baby, who are we to police her language? Especially when it's Rihanna and she wants to call her 9-month-old son "fine." Sure, there were some people who raised an eyebrow about her word choice, but Rihanna is completely unbothered. She thinks her baby boy is "fine" and what's more, she's ready to come after anyone who might question her.
Rihanna recently posed for a photo shoot with her 9-month-old son, whose name she has yet to share publicly, as well as her partner A$AP Rocky for a cover story for British Vogue. This marks her sweet little boy's first magazine cover, which feels like an especially big deal as she recently let the world know she's expecting a second baby during her epic Super Bowl halftime performance. In fact, this photo shoot technically marks her first photo shoot with both of her babies, as Rihanna noted in an Instagram post celebrating her cover shoot with her "fine" baby boy.
"my son so fine! Idc idc idc!" she wrote. "How crazy both of my babies were in these photos and mommy had no clue."
Yes, Rihanna wants the world to know her son, who is indeed very adorable, is "fine" in her eyes. And when one fan had the audacity to correct her, she had no time for it. When another commented, "Fine?! More like cute, adorable... he's not a grown man lol," Rihanna responded, "you just keep your lil cougar paws away from him and we good!" And when one more typed in the comments, "who calls a baby fine?" the "Lift Me Up" singer responded, "his mother!"
"Fine" might not be the word many moms use to describe their babies, but Rihanna doesn't care. She told Vogue that everything has changed since finding her way as a mom, which she says was a struggle in those first weeks completely alone with A$AP Rocky and their son. "Essentially, from one person I became two," Rihanna told Vogue. "You walk into the hospital as a couple and leave as a family of three. It's nuts. And oh, my gosh, those first days are insane. You don't sleep. At all. Not even if you wanted to. We came home, cold turkey, had no one. It was just us as parents and our baby. Man, you're a zombie for the most part."
Giving birth to her son actually has her thinking that she might want to try out a Fenty line for babies because she thinks her son "deserves to be cool," she told Vogue, noting baby clothes are "so boring." If calling her son fine means the world gets a Fenty Baby line, everyone go along with it. Let's not mess with a good thing.