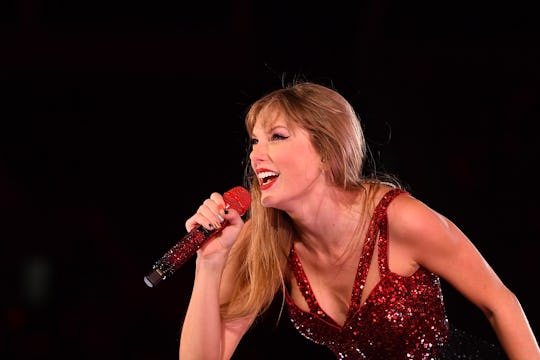 Marcelo Endelli/TAS23/Getty Images Entertainment/Getty Images
Taylor Swift's Dad Adorably Freaks Out Over Her New "Karma" Lyrics For Travis Kelce
"Karma is the guy on the Chiefs."
All eyes were definitely on Travis Kelce at Taylor Swift's Eras concert in Argentina, but they really should have been on the pop star's dad. Scott Kingsley Swift was spotted in a VIP tent with the Kansas City Chiefs tight end, dancing and singing along to his daughter's songs all night long, and his reaction to a special lyric change for Kelce was perhaps even better than the NFL pro's massive grin.
During Swift's show in Buenos Aires on Saturday night, fans captured the moment she updated the lyrics to her song "Karma" from her Midnights album, as a sweet little ode to her new beau. While the original lyrics read, "Karma is the guy on the screen/ Coming straight home to me," Swift switched it up and sang, "Karma is the guy on the Chiefs / Coming straight home to me."
As Kelce heard the new lyrics and fans screamed, he smiled, covered his face for a moment, and continued to dance along to the song. And Swift's 71-year-old dad, well, he could not look happier for his new buddy. Mr. Swift, jaw dropped, gave Kelce a playful little smack on the shoulder like "Hey, that's you!" He then turned to Kelce with his hands raise for a high-five, but Kelce didn't appear to notice, so Swift's dad continued to clap, with his jaw still dropped.
In another fan video from the concert, Kelce and Swift's dad are still rocking out. Mr. Swift, however, clearly wants some on-the-ground footage of his own from the big night. With his flash fully on and phone in landscape mode, Swift's dad held up his phone to take a video or photo of Kelce enjoying himself, smiling and singing with the crowd in the VIP tent.
Swift's dad and Kelce appear to be hitting it off pretty well ever since the pair publicly confirmed their budding romance in October. In Argentina, Swift's dad joined his daughter and Kelce for dinner at a restaurant in the Four Seasons Hotel in Buenos Aires, according to People. A source told the magazine that Swift and Kelce "looked so cute on their low-key date night" and "left holding hands." Kelce and Swift's dad also accepted friendship bracelets from Swifties in the crowd during the concert, The Daily Mail reported.
Swift has made appearances at several of Kelce's games, even hanging out with his mom, Donna, and inviting some of her famous besties to join her, like Blake Lively and Ryan Reynolds, so it was only a matter of time before the NFL pro showed up to support her. And now we know Mr. Swift is fully on Team Swelce.