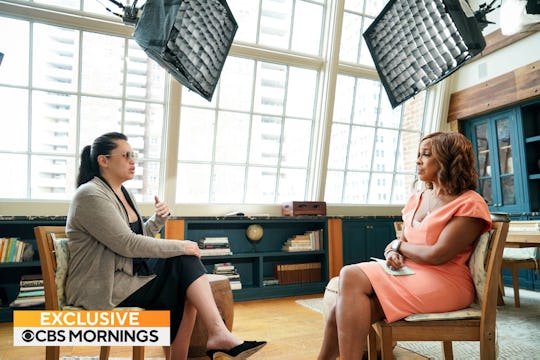 CBS Mornings
Robert De Niro's Partner Tiffany Chen Lost All Facial Functions Week After Giving Birth
"I couldn't eat. And then I was starting to slur."
When Robert De Niro and his partner Tiffany Chen welcomed their first baby together in April, it was all over social media. Well, the fact that De Niro became a father again for the seventh time at 79 years old was being talked about. But for Chen, something else was going on behind the scenes. In a new interview with Gayle King on CBS Mornings, Chen explained that she lost all of her facial functions a week after giving birth to her daughter, Gia Virginia Chen De Niro.
Chen explained in her interview with King, which will air on CBS Mornings on Friday, that she noticed an unusual sensation on her tongue in the days after giving birth. Then she noticed a tingling and numbness in her face.
"Then I realized, like my face just felt weird. I didn't know what the feeling was that I was having. It felt weird," Chen explained. "When I got home, it was like everything was starting to just fall down on itself. Like, my face was melting on itself."
"Then a week after giving birth, that was when it all hit," she continued. "And I called my doctor, and I was trying to eat. I went to put just a fork of food in my mouth, and everything came out. I couldn't eat. And then I was starting to slur." Her doctor advised her to go to the hospital, where she lost all facial function within minutes of her arrival.
Chen, a martial arts instructor who has been in a relationship with De Niro since 2021, was diagnosed from Bell's palsy, a neurological disorder that affects 40,000 people across the country each year. It's a temporary condition affecting the muscles of the face, frequently causing one side of the face to droop or even become paralyzed. For Chen, her case of Bell's palsy, which can be brought on by pregnancy, preeclampsia, diabetes, and obesity, affected both sides of her face. While rare, Bell's palsy can affect women who are pregnant and postpartum women as well. A study conducted by University Hospital in Stockholm, Sweden found that the incidence of Bell's palsy in pregnancy and postpartum was approximately 60 out of every 100,000 women in that region.
While Chen certainly went through a harrowing experience after welcoming her first baby, De Niro has previously said that the couple were "over the moon" to welcome her and that the little girl was "planned" by her parents.