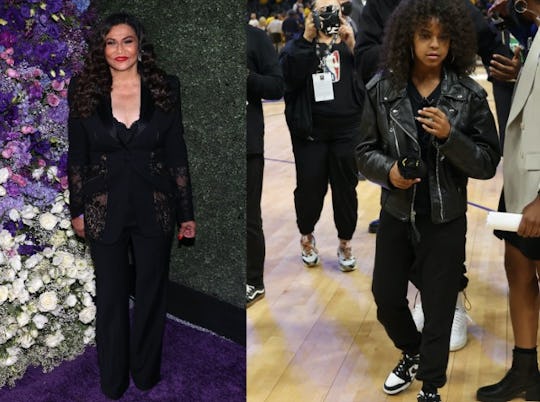 David Livingston/Getty Images Entertainment/Getty Images; Right: Ezra Shaw/Getty Images Sport/Getty Images
Tina Knowles Celebrates Blue Ivy's 11th Birthday With Sweet Instagram Post
"You were such a queen and you are so very special!"
Tina Knowles-Lawson showed love to her favorite Capricorn, Blue Ivy, on her birthday. On Sunday, the proud grandmother went on Instagram to celebrate her oldest granddaughter, who turned 11 on Jan. 7.
"The day that you were born was one of the best days of my life. I was really praying and pushing your mom to have you on January 4 which is my birthday," she wrote on Instagram and shared a beach photo of them matching in black and white. Knowles-Lawson went on to express how she wanted her to share her birthday with her granddaughter but like her "Solo [Solange Knowles] you decided to come when you were good and damn ready and that was on January 7 three days after my birthday."
But the Wearable Art Gala co-founder added that Blue needed her own day and went on to list all of the qualities that make the preteen "such a queen" and "so very special."
"You can sing dance, play basketball, play, volleyball, paint draw, sculpt, sew, write poetry, write songs, create, act, play the piano! I could go on and on," she wrote. "Because there's really nothing that you can't do. You are funny and beautiful and graceful, kind , and so smart. I could not ask for a better granddaughter Ms. Blue Ivy Carter!"
She ended her touching caption by saying, "I could not be more blessed, grateful, and completely in love with another human. You truly bring me joy!!"
Celebrity friends also wished Blue Ivy a happy birthday in the comments. Ava DuVernay commented, "How beautiful. The caption. And your granddaughter. Blessings to all!" Actress Holly Robinson Peete wrote, "happy birthday, beautiful Blue! You have the greatest best grandmother ever!!"
Ashley Everett, the lead backup dancer and dance captain for Beyoncé commented, "Happy birthday to miss Blue!!! I'll never forget when she came to this world!"
Blue is Beyoncé and JAY-Z's oldest daughter. The couple also shares 5-year-old twins, Sir and Rumi Carter.
Las year, Knowles-Lawson affectionately referred to Blue as her "Little Capricorn Twin." "Blue is one of those rare gifted people that can do everything well," she wrote under her 10th birthday post last year, sharing the same picture. "God Blessed me the day you were born!"