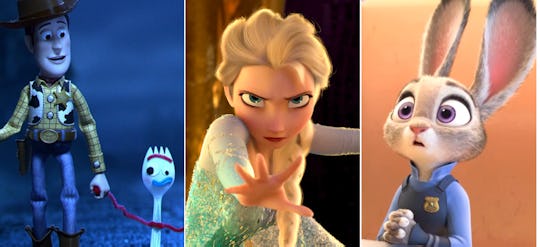 Disney
Disney Reveals New Sequels For Toy Story, Frozen, & Zootopia Are In The Works
Look out for Toy Story 5, Frozen 3, and Zooptopia 2!
If you live in a world where you can never get enough Woody, Buzz, or even Elsa and Anna, you're in luck. Disney announced that both Toy Story and Frozen will be getting new sequels, and these juggernaut franchises aren't the only ones in the Disney realm to be getting an addition.
Disney CEO Bob Iger made an exciting announcement during a Q1 earnings call on Wednesday, according to Deadline. He said there are plans in the works to put out sequels for Toy Story, Frozen, and one more fan favorite, Zootopia.
"Today, I'm so pleased to announce that we have sequels in the works from our animation studios to some of our most popular franchises: Toy Story, Frozen and Zootopia," Iger said, per Deadline. "We'll have more to share about these productions soon, but this is a great example of how we're leaning into our unrivaled brands and franchises."
While the Disney boss didn't reveal how far along these three sequels were in their development, it will certainly be welcome news for fans. While Toy Story has had four sequels so far, the movie franchise about talking toys and the enduring friendship of Woody (Tom Hanks) and Buzz Lightyear (Tim Allen) has become so ingrained in kid culture that it's sure to be a hit. And let's not forget the series' spinoff Lightyear starring Chris Evans that was released in 2022.
As for Frozen, there have been two movies so far about sisters Anna (Kristen Bell) and Elsa (Idina Menzel) living in the kingdom of Arendelle but anyone with small kids will tell you; there can never be enough Frozen. Just as Elsa herself. Idina Menzel previously admitted that she would be down for a third movie. "I hope it is, but I don't know. Anytime I can be 80 and play a blonde animated girl who is, like, 15 — who has amazing arms, by the way, I love that about her," she told Today in 2022.
Zootopia, on the other hand, is getting its first sequel. The 2016 movie about Judy Hopps (Ginnifer Goodwin) taking down stereotypes about predator and prey on her journey to become a cop, was a stand-alone feature with a big cast (like Idris Elba and Shakira) that will now get its own franchise status.
As we wait for details on these three sequels, for now it's enough to know they're coming. That these worlds will carry on. Just don't tell your kids yet unless you want to be asked when they're coming every single day.