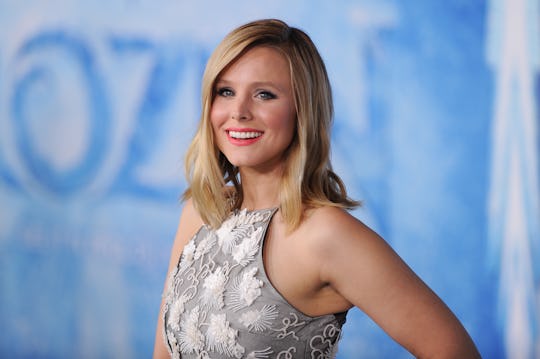 Allen Berezovsky/WireImage/Getty Images
Kristen Bell Just Hinted That Frozen 3 Is Maybe (Hopefully!) In The Works
"I would like to officially announce..."
It took six years to get a sequel to the 2013 Disney animated hit Frozen, but almost immediately after we got Frozen 2 of course everyone started to ask about Frozen 3. Especially since Disney seemed to hint that it could happen by leaving the door open for a sequel. Parents had to start asking because they had children at home dressed in their Anna and Elsa costumes throwing tantrums about when the next movie would come out. Nobody understands this better than Anna herself, Kristen Bell, who "officially announced" a third Frozen movie during an interview with Jimmy Fallon on The Tonight Show. That announcement, unfortunately, came with a slight catch.
On Monday night Bell, who is mom to 9-year-old daughter Lincoln and 7-year-old daughter Delta with husband Dax Shepard, answered a question from Tonight Show host Fallon about whether or not a third installment of Frozen was in the works.
"I would like to officially announce, with zero authority, Frozen 3," she told the cheering audience, before rather cruelly adding a catch. "Please bear in mind I did say 'zero authority,' 'cause I can't [actually announce it]. I can't do that — I'm not in charge." So no official announcement then.
Fallon, who is himself a dad to two daughters, couldn't keep himself from pushing a bit further. "But there could be something in the works and something maybe happening, maybe," he hinted, at which point Bell gave a bit more hope for a possible Frozen 3. "Well, you know, I'm — I'll keep it mysterious. But I know Idina recently said she would do it and I feel like if we're all in, what are we waiting for?"
Bell is referring to her co-star Idina Menzel, voice of Elsa, who said in a recent interview with Shop Today's Jill Martin when asked about a possible third Frozen movie, "I hope it is, but I don't know. Anytime I can be 80 and play a blonde animated girl who is, like, 15 — who has amazing arms, by the way, I love that about her."
Do you know who else loves Elsa? Everyone. Including Bell's daughters, who hilariously made their mom dress as Elsa for Halloween in 2017.
This is why Kristen Bell understands the need for more Frozen content more than most. She's getting it on the homefront just like the rest of us.