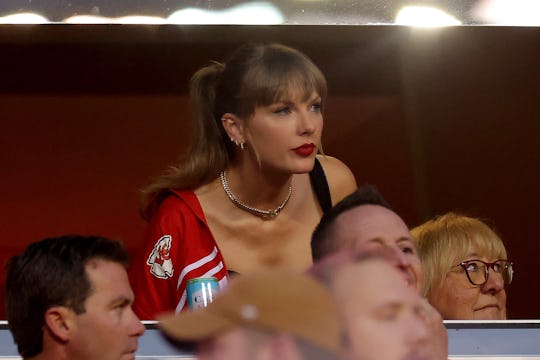 Jamie Squire/Getty Images Sport/Getty Images
Travis & Jason Kelce Hilariously Speculate About What Their Dad Said To Taylor Swift
"He's probably saying, 'I've taken all of your CDs out at the local library, and I've burned them [onto] my computer. Because that is legal, as a taxpaying citizen.'"
We aren't the only ones keeping a close eye on Taylor Swift's conversations on the sidelines of all those Kansas City Chiefs games she's been attending. Her new beau Travis Kelce is very aware of them as well, even though he's pretty busy on the field while they're happening. He and fellow NFL pro, brother Jason Kelce, recently chatted about one "terrifying" conversation the Eras singer was seen having on the sidelines with their dad Ed, and it's a hilarious take. Because they both decided "he shouldn't be talking to Taylor Swift."
The two chatted about the viral moment when Ed Kelce was seen having an animated conversation with the Grammy award winner on their New Heights podcast, a moment Jason Kelce called "momentous." Travis, who has been all over the news lately due to his budding romance with the singer, called it "a terrifying conversation," adding, "I felt terrible for Taylor."
While both sons were quick to point out that their dad was "the best f*cking dad in the world," with Travis adding that Ed is "a great converser," it seems they still had their concerns. "If you see Dad talking to anybody and you can't hear what's happening, who knows where that conversation's going," Travis pointed out.
Because they couldn't see what the two were talking about, Travis and Jason had some guesses as to what their dad was saying based on his own history. "He started listening to her music a little more," Travis told his brother, who responded with "Bless his heart" before adding, "He's probably saying, 'I've taken all of your CDs out at the local library, and I've burned them [onto] my computer. Because that is legal, as a taxpaying citizen.'"
The brothers agreed that, whatever the two might be talking about, they were happy to see their dad getting a bit of the spotlight after mom Donna Kelce had been seen with Taylor Swift on more than one occasion. The two women were seen laughing and talking on the sidelines, and Travis had no doubt that any conversation between them would be, "delightful. It's going to be a wonderful conversation."
Donna Kelce, for her part, is not sharing anything about her chats with Taylor Swift either. When asked what it was like hanging out with the megastar, she told Hoda Kotb and Savannah Guthrie on TODAY that "it was okay."
In other words, she and Ed are keeping it in the family. For now. Bless their hearts.