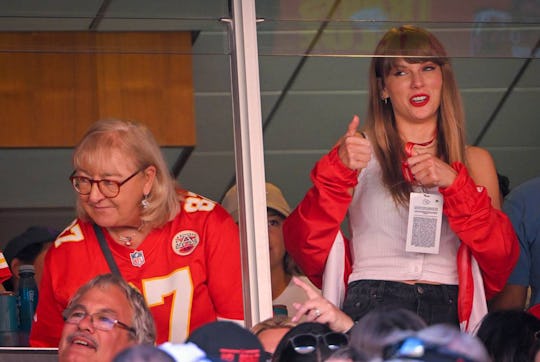 Kansas City Star/Tribune News Service/Getty Images
Kylie Kelce Says Her Daughter Wyatt Is "Just Another Swiftie" Learning Football
She got distracted by A.J. Brown's pink sneakers.
It is no secret that megastar Taylor Swift has been in attendance at some NFL games recently. It's also no secret that she has been specifically attendance at Kansas City Chiefs games, the very same team her rumored new love interest Travis Kelce plays for, which, of course, has Swifties all over the world suddenly interested in football, much like Kelce's own niece. The 4-year-old recently sat down to watch a game with her mom Kylie Kelce and was really getting the full rundown on every player and who they might be. Much as we suspect Swifties around the world are doing this very minute.
Kylie Kelce recently took to TikTok to share a video of her 4-year-old daughter Wyatt, who she shares with Philadelphia Eagles center (and brother of Travis) Jason Kelce, watching football together. Or in young Wyatt's case, getting the names of each player she found interesting and commenting on their style. "Who's that?" she asked her mother not once, not twice, but at least four times. Finally settling on the pink sneakers worn by Philadelphia Eagles' wide receiver A.J. Brown and watching the game for the frequent reappearance. "I see him again, the pink shoes!" she says as her mother tries to get her to focus on her actual father playing the game. To no avail.
The busy mom, who also shares 3-year-old daughter Elliotte and baby girl Bennett with Jason Kelce, took it all in stride. She captioned the video, "Just another swiftie tryna learn football, or a kid tryna avoid a nap. Who knows?" I wonder how many Swifties out there feel especially seen in this moment?
Certainly Taylor Swift's sudden interest in football, or perhaps more specifically Travis Kelce playing football, has caused an uptick in interest in the sport. Something Travis Kelce's mom Donna, who has been seen watching her son play from the press box alongside Swift and some of her celebrity friends, thinks is great for the NFL. "All I can tell you is that the NFL is laughing all the way to the bank," Donna said in a recent interview on the Got It From My Momma podcast. "You know what I'm saying? Good for them. They're getting the ramifications of everything."
Of course, the Kelce family is in rather a different situation when it comes to sports. Little Wyatt is part of a football empire, so she's really got a leg up on her fellow Swifties when it comes to a crash course in football. Not to mention pink sneakers.