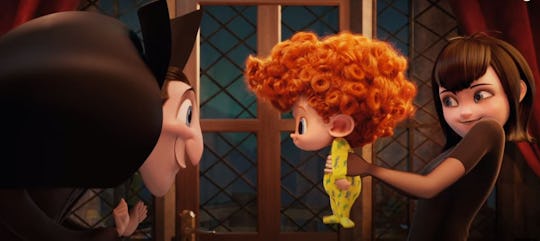 Hulu
17 Kid-Friendly Vampire Movies To Sink Your Fangs Into
From teenage babysitters to dogs, these vampires come in all different capes!
When you think about vampires, the first few thoughts that come to your mind are probably blood (of course), long capes, Tom Cruise and Brad Pitt, (for the hopeless romantic types). Or if you're a bit hardcore on the genre, you might be picturing something more gory. Or if you're really hip and can imagine living in a town full of them, maybe it's True Blood (currently re-watching all seasons on HBO Max). At least that's how we, grown-ups, think about vampires.
But for the kids and tweens, it's all about fun, adventure, and some blah-blah-blah, as Drac would say. Just because a protagonist is a bloodsucking monster doesn't mean they have to be scary, which is what these kid/family, friendly vampire movies that are spotlighted below show us.
In today's family vamp movies, vampires are in high school capturing the hearts of an entire generation of teen girls. Yes, we are talking about Twilight. And instead of seducing women and dodging Van Helsing, Count Dracula is a single father, running a hotel that turns out to be a haven for all monsters, in Hotel Transylvania! Oh yes and this is where bleh-bleh-bleh comes from (spoiler alert)! Imagine if your mom's date was a vampire? Or your babysitter? Or Johnny Depp as a bloodsucker in a 1970s New England fishing town. Enough said. Whereas, some vampire movies are used to symbolize larger societal issues, such as Oz Rodriguez's Vampires vs the Bronx.
Get some popcorn, wine for you, and a red-flavored punch or strawberry soda for the kids and sink your fangs into this list of family-friendly vampire movies.