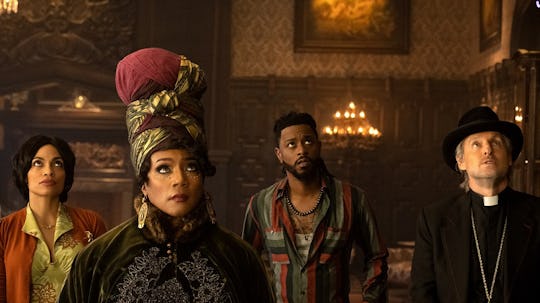 © 2023 Disney Enterprises, Inc.
What To Know Before Taking Your Kids To See The Haunted Mansion Remake
It looks spooky, but also pretty funny.
One of the toughest things to pull off is finding a movie that is both funny and just scary enough for kids. Because for whatever reason, kids like a little jump scare just like the rest of us. Not too much, of course. No one wants to be up with nightmares all night, kid or adult or whoever. So what to do about the Haunted Mansion remake hitting theaters this summer? Is this going to be a fun, jump scare kind of movie, or are we talking nightmare territory for kids?
Haunted Mansion is a remake based on a Disneyland ride.
Haunted Mansion is based on the 2003 Disney live-action movie of the same name starring Eddie Murphy as a realtor who gets caught in, you guessed it, a haunted mansion. And that movie is based on the beloved ride first opened at Disneyland in Anaheim, California in 1966. This new film, directed by former Disneyland employee Justin Simien, does its best to stay as close to the lore surrounding the ride as possible. Much like the ride, this movie takes place in a haunted mansion in New Orleans, but in the film version it was recently purchased by a single mom (played by Rosario Dawson), who moves in with her son only to find it full of ghosts. In an effort to get rid of the ghosts and keep her giant house, the single mom "enlists a motley crew of so-called spiritual experts to help rid their home of supernatural squatters," according to the official synopsis.
The Haunted Mansion trailer is pretty scary with some laughs.
The Haunted Mansion trailer sees Dawson warning a man entering the home (LaKeith Stanfield) to be careful as stepping over the threshold "could change the course of your life." He says he isn't afraid of ghosts and then promptly finds himself in scary ghost situations. Seeing a bride ghost when he looks in a mirror, running from laughing ghosts, and worst of all, trying to escape the genuinely frightening Hat Box Ghost (Jared Leto). Fortunately he has other "experts" on hand to help him out like Owen Wilson, Danny DeVito, and best of all, Jamie Lee Curtis as the famous psychic Madame Leota who will be instantly recognizable to fans of the ride.
What is Haunted Mansion rated and is it appropriate for kids?
While the original Haunted Mansion movie seemed to lean a bit more on the humor, this new version looks to be scary enough to keep younger kids away. Haunted Mansion has a PG-13 rating for thematic elements and scary action. Some kids younger than 13 will probably be comfortable with the scarier parts of the movie because of the solidly funny cast, but it will most likely be too much for those under 10.
When does Haunted Mansion premiere?
Haunted Mansion premieres in theaters across the country on July 26, smack dab in the middle of summer holidays. It might be a great pick for older kids to while away a few hours in the air-conditioned movie theater. Or it might give everyone nightmares. It depends on the family.