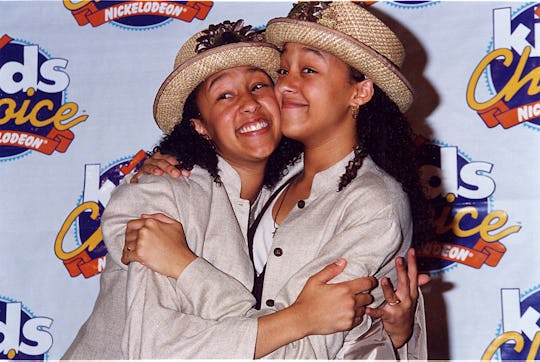 Jeff Kravitz/FilmMagic, Inc/Getty Images
Tia Mowry Reveals A Sister, Sister Reboot Isn't Happening
Thankfully, you can still stream the iconic '90s show.
Go home, Roger! For good, it seems. Tia Mowry-Hardict has shut down our hopes for a Sister, Sister reboot. The Family Reunion actress officially set the record straight on her TikTok last Tuesday when she hopped on the "Questions I Get Asked" trend.
A Sister, Sister Reboot Isn't Happening
That's according to Mowry-Hardict herself. When a question flashed across the scene asking, "Will there be a Sister Sister reboot?," she replied, "No, sorry!"
Sister, Sister debuted in 1994 starring Mowry-Hardict and her twin sister, Tamera Mowry-Housley. The family comedy followed the twin sisters who were separated at birth and reunited as teens. Together with their adoptive parents, Tia's mother Lisa (Jackée Harry) and Tamera's father Ray (Tim Reid), the girls navigate the ins and outs of life. (Spoiler alert: Lisa and Ray finally make it official as a couple in Season 4, but we all saw the signs of love as early as Season 2!) And, of course, we can't forget Roger, their hopelessly annoying neighbor played by R&B singer, Marques Houston.
News of a possible revival was first announced in January 2018 by Harry on the Steve Harvey Show. And back in 2019, the Anser co-founder had shared at the time that the potential for a reboot was being stalled by legalities with the show's rights. "It was full steam ahead that it was going to happen," Mowry-Hardict told Entertainment Tonight at the time. "But there were some issues with rights."
Two years later, on Feb. 4 of this year, Mowry-Housley provided a brief update about it during an interview with PopSugar, sharing that it's all about the right "timing" and the "right materials."
Despite the disappointing news of not having a reboot, you can still relive your TV teenage years by streaming Sister, Sister.
Stream It On Hulu
Sister, Sister recently became available to stream on Hulu, as Harry announced on Instagram. "It's a thrill that this show continues to remain popular and loved by audiences even after all these years," Harry wrote in February. "It was a joy to be part of such a special show where we really were like a family and consider each other the same… so wonderful to see future generations loving it! Who knew!?"
You can find Sister, Sister under Hulu's Black Stories hub. Other Black '90s television shows on Hulu include Moesha featuring Brandy, Family Matters, The Bernie Mac Show, and the '70s family classic that paved the way for all of them, Good Times.
Stream It On Netflix
Seasons 1 through 6 is currently available to stream under Netflix's Representation Matters Collection, which also includes titles such as Jingle Jangle and Mowry-Hardict's sitcom Family Reunion.
Netflix acquired the show last July as part of the Strong Black Lead launch, which also features Moesha, Girlfriends, Half & Half, and One on One with Kyla Pratt.
This article was originally published on