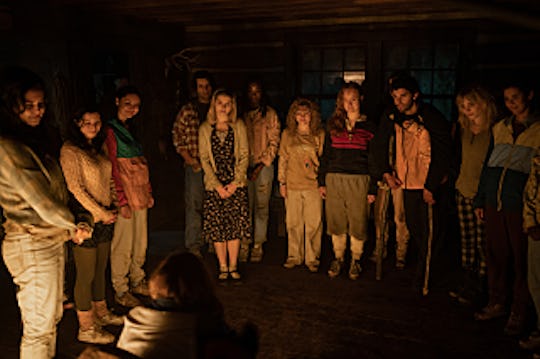 Paramount+
Yellowjackets Season 3 Is Officially Happening
So you can rest easy while watching Season 2.
There's nothing better than heading into a new season of a favorite series and knowing for sure that you have at least one more after this one coming up. With that in mind, we are thrilled to report that Season 3 of Yellowjackets has already been confirmed ahead of Season 2's premiere. Here's everything else we know so far.
Yellowjackets has been renewed for Season 3.
Ahead of the release of Season 2 of Yellowjackets, Showtime and Paramount announced it had renewed the series for a third season. "With Yellowjackets' runaway success in Season 1 and the pent-up anticipation for Season 2, we wanted to maximize the momentum by fast tracking Season 3 now," Chris McCarthy, president and CEO of Showtime and Paramount Media Networks, told Variety in December. "The show's ambition is only exceeded by its execution, and I thank the incredible creative team behind it, including Ashley, Bart, Jonathan, eOne and the Showtime team, for turning this into such a success."
Cannibalism, teenagers, and mom angst all in one show? No wonder Yellowjackets is a success.
Yellowjackets was the show that sort of took everyone by surprise in late 2021. The Showtime series that flips back and forth between a New Jersey high school girls soccer team in 1996 and the women (some of them) become two decades later was a Lord of the Flies-esque adventure and modern-day thriller rolled into one. When a plane carrying the girls' soccer team crashes in the wilds of Canada, they have to learn how to survive in ways that continue to haunt them as adults. Yellowjackets came out swinging with a first season that was darkly funny, complicated, and immensely watchable. No wonder we can't wait for more.
Season 2 will star some returning cast members and new faces.
Season 2 of Yellowjackets will see much of the original cast return including Juliette Lewis, Christina Ricci, Melanie Lynsky, Sophie Nelisse, but it looks like there will be some new faces as well. Elijah Wood is joining the cast this time around and Lauren Ambrose is also joining the cast.
When can you watch Season 3 of Yellowjackets?
While there is no premiere date set as of yet for the third season of Yellowjackets, Season 2 of the series is just around the corner. Showtime subscribers can look forward to watching the second season of Yellowjackets on March 24, and two days later the series will be available for Paramount+ subscribers on March 26. This should give you plenty of time to rewatch the first season, just in case you forgot something.