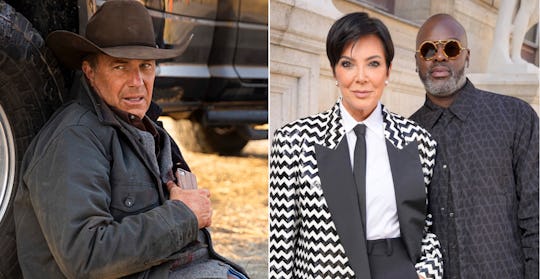 Paramout/WWD/Getty Images
Did You Know Yellowstone Nearly Had A Kardashian Crossover?
Kris Jenner just had to say no.
The world could have had a Kardashians/Yellowstone crossover, impossible as it might be to imagine. As disparate as two shows could possibly be, there was a brief moment when a star from Hulu's The Kardashians, a glitzy, drama-ridden reality series on Hulu could have made their way over to Yellowstone, a rugged, drama-ridden western series on Paramount+. Sadly, we will never know what that would have looked like. Because momager Kris Jenner put a stop to it.
During the Season 4 premiere of The Kardashians, Kris Jenner was having dinner on vacation in Cabo with four of her daughters when she suddenly announced, "I'm so excited to watch the next episode of Yellowstone." Corey Gamble, her boyfriend of nine years, pointed out, "If it wasn't for you, I would be a Yellowstone star." Kim Kardashian, ever the business-minded daughter, was astonished and said, "They asked you to be on Yellowstone and you said no?" Kris then explained, "Correct, because I told him to say no, because I thought he was going to have to have a romantic relationship."
When her daughter Khloé interjected to ask, "OK, but if they said they wanted you to star and kiss with Kevin Costner, I'm sure you would take it," Kris replied, "Oh that's a hard yes."
Costner, of course, plays Yellowstone patriarch John Dutton, and for a brief moment we can all imagine this matriarch and patriarch going head to head. But that does not appear to be in the cards either.
Thanks Kris.
Kris and Corey Gamble first met at a party in Ibiza in 2014 when Gamble was working as a tour manager for Justin Bieber. It was a tough time for Jenner, who was in the middle of a fairly acrimonious split from Caitlyn Jenner, and the two became inseparable fairly quickly. Since then, Gamble has been a regular fixture on The Kardashians as well as on Kris' Instagram, where the two are often pictured packing on the PDA. Apparently that PDA is off-limits for anyone other than Kris, even if it means her other half can't star on what is arguably one of the biggest television series in recent memory.
While the Kardashian/Jenner side assert that he was invited to be on the series, no word yet from Yellowstone creator Taylor Sheridan on whether or not he was hoping for that Kardashians/Yellowstone crossover. It's not the worst idea in the world, unless you're Kris Jenner.