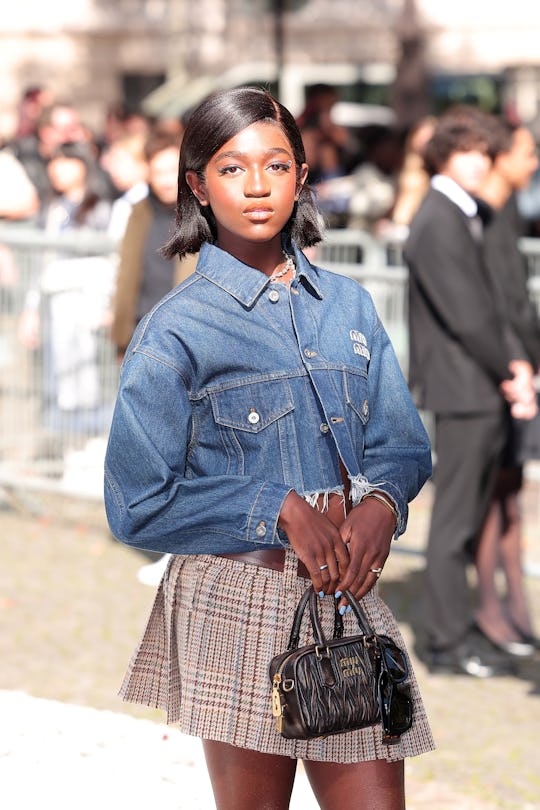 Jacopo Raule/GC Images/Getty Images
Zaya Wade Just Walked The Runway For The First Time In Paris
The 15-year-old was a total star in Miu Miu.
At the tender age of 15 years old, Zaya Wade has just checked something off what many might consider an unattainable item on her bucket list. The daughter of Dwyane Wade and Gabrielle Union just made her runway debut at Paris Fashion Week, taking to the catwalk in designs from fashion house Miu Miu. And it's like she's been doing it her whole life because she really nailed it.
Zaya took to the runway on Tuesday for Miu Miu's fall/winter collection wearing an olive green outfit complete with knit blazer, skirt, and sweater. She pulled off the walk and perhaps most importantly, the stare off into the middle distance made famous by supermodels through the decades.
Both Union and Wade were in the front row to watch, with proud dad Wade sharing photos from this momentous event on his Instagram Story under the caption, "I'm not crying, you are." Union also shared footage from Zaya's catwalk moment, and this sounds like just about the most glamorous family outing imaginable. Noticeably absent was the couple's 4-year-old daughter Kaavia "Shady Baby" James, and one has to wonder how she's going to feel about that.
Zaya's debut runway appearance is a big deal for so many reasons, not the least of which being that it happened mere weeks after she was legally able to change her name and gender through the courts on Feb. 24. Her former NBA player dad was embroiled in a legal battle after he petitioned to legally change Zaya's name, with her mother reportedly fighting him in the courts over the decision. Zaya first came out as transgender in 2020 with the support of both Union and Wade, who reintroduced his daughter to the world after she walked the red carpet at the Truth Awards in Los Angeles in 2020. "Last night was Zaya's first red carpet and we couldn't have been prouder of how she handled the questions that were asked of her," he wrote at the time. "She has emerged as one of the young faces and voices for the LGBTQ+ community."
Now Zaya has moved on from red carpet to runway after three years of growing and learning about herself. She walked the red carpet with the confidence of someone who has done it for years. The confidence of someone who fully knows herself.