All Hail The Pumpkin King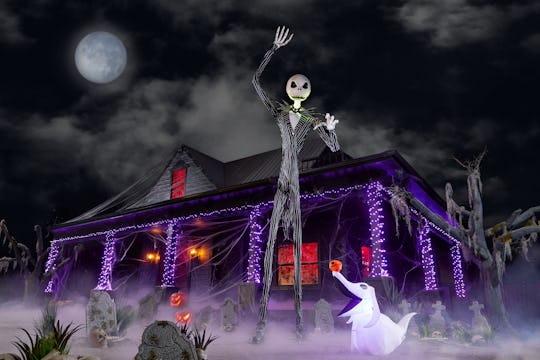 Home Depot
Yes, A 13-Foot Tall Jack Skellington Is A Responsible Purchase
Now this...this is Halloween.
We may receive a portion of sales if you purchase a product through a link in this article.
The Nightmare Before Christmas is one of the best Halloween movies of all time (and is arguably also a top-tier Christmas movie, so bonus points for covering two holidays in one film). Diehard fans of the movie will absolutely love this new 13-foot Jack Skellington from Home Depot, available on their website now, who is ready to spook the pants right off of all the neighborhood kids who pass by.
This towering Pumpkin King retails for $399 and brings Jack Skellington's signature proportions to life. His giant figure will tower over fences, and even be taller than most houses, so all your neighbors can get a view of him. His head and mouth move for a life-like effect as he sings lines from your favorite songs on the Nightmare soundtrack. He plugs into an electrical outlet for power so don't forget to grab an extension cord if you need one. He's made of weather resistant materials too, so he can withstand pretty much any October tempteratures.
Jack is now Home Depot's tallest Halloween decoration, a title formerly held by their viral 12-foot skeleton figure that sells out year after year. While Jack is new this year, you could probably get some ideas for how much assembly will be required for him, and the best methods of storing him, based on Home Depot's guide to caring for their 12-foot Skelly. (Pro tip: don't throw out his packaging; just keep it handy to store him in for the rest of the year.)
If you want to decorate the whole yard with your favorite characters from The Nightmare Before Christmas, Home Depot has you covered. Aside from the towering Pumpkin King, you can also snag a 7-foot tall Oogie Boogie inflatable, who is flanked by the mischievous trio of kids, Lock, Shock, and Barrel. There's this inflatable of Jack Skellington sitting atop that iconic curly hilltop, complete with a purple kaleidoscope light feature, a Jack Skellington Jack-O-Lanterns blowup decoration, and of course some yard stakes fashioned after Jack's loyal pup Zero.
So, run, don't walk, to Home Depot online July 13 and in stores by the end of August. As popular as the towering skeleton decorations are, it wouldn't be surprising for the even-taller Jack to fly right off the shelves.