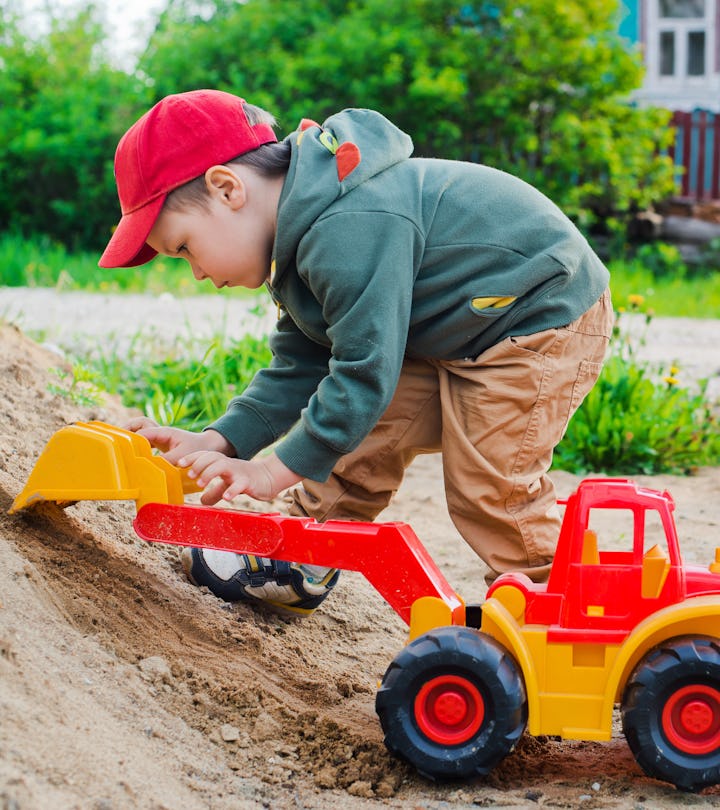 Shutterstock
15 Best Toys For The Kid Who ~Digs~ Diggers
Big and loud or small and quiet, there's a digging toy for every kid on this list.
Whether it's with a shovel, a spoon, or just their bare hands, kids love to dig. To up the ante on backyard fun, you can build upon your child's excavation experience and outfit them with these 15 construction-themed toys that they'll totally dig. (Get it?)
Maybe it's the expectation of finding treasures buried deep within the earth that motivates them to burrow way below the ground. Or maybe the ultimate goal is just to create an enormous huge hole —you know, the kind that's smack dab in your front yard, waiting for unsuspecting people to fall into. Nonetheless, the prospect of digging in and throwing dirt over their shoulder is made all the more exciting when they have a cool construction tool to do it with. And it helps that kids playing in the dirt is super good for them.
My son and our dog used to have a competition to see who could dig the bigger holes. (Sorry son, but Sam the dog won. Every time.) And I've had more than one bed of daffodils upturned by an overly exuberant child bent on destroying my freshly planted flowers. Even now, every time we pass a construction zone, my kids, especially my youngest son, are fascinated by these big rig machines. I can only think that he's imagining that he's pretending to be a construction worker, making his way all the way to the center of the earth. Or maybe he just wants to make a hole. Who knows? I should get him to dig a hole to replant some flowers...
In any case, watch the dirt fly, because these 15 diggers can definitely get the job done.
We only include products that have been independently selected by Romper's editorial team. However, we may receive a portion of sales if you purchase a product through a link in this article.
This article was originally published on