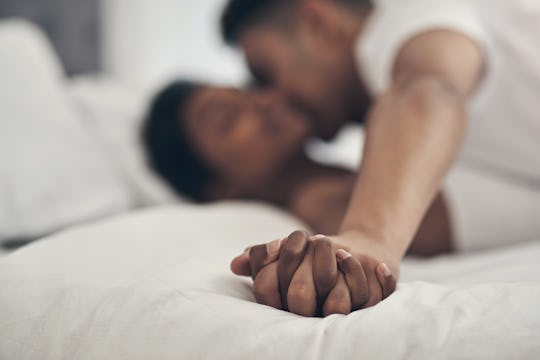 PeopleImages/E+/Getty Images
18 Little Things To Do During Missionary To Make It Better
Some may call it bland, but it doesn't have to be.
Missionary is a classic for a reason, but the position has got a reputation for being a bit boring. It's typically thought of as requiring the person on top to do most of the work while the person on the bottom just gets to enjoy themselves. Thankfully, there are plenty of little things to do during missionary to spice up this position and shift some of that effort more equally between partners — for those times you want to switch things up in the bedroom.
Another reason missionary can get a bad name or feel too cliché is because "we have come to associate top and bottom as one being more dominant," Martha Lee, doctor of human sexuality (DHS), relationship counselor, clinical sexologist, and founder of Eros Coaching, tells Romper. But the reality is that "the one on top can also be the one being submissive [and] serving, as they're working harder," she explains. "You can have two persons engaging in penetration, with each [feeling like] the more dominant one — one receiving, one giving." All it takes is a few adjustments — and not just in attitude.
Eye-gazing, skin-on-skin contact, intimacy, and the ability to kiss during intercourse are some of the reasons to love missionary. For the person on the bottom, "some really like the pressure of their partner on them; the body-to-body contact may add more clitoral stimulation than they'd get in some other positions, and the skin-to-skin element is arousing, too," Carol Queen, Ph.D., staff sexologist at Good Vibrations, tells Romper. Meanwhile, the person on top has "lots of opportunity to move, get into a thrusting groove, and explore the different ways this can be experienced, from slow grind to 'fast to the finish'," she says.
Of course, there are all kinds of places sex can take you. Some people are in it for the orgasm, while others get off on seeing the facial expressions of their partner. If this is your turn-on, missionary is a perfect position for you, and one that doesn't have to be vanilla — that is, if you try the following missionary position tips to make it more exciting.
Missionary does not have to be boring or uncomfortable. Just employ the right adjustments to add some extra spice, and remember that communication with your partner is key. The old classic may just wind up being your new favorite.
Studies referenced:
Pierce A. P. (2000). The coital alignment technique (CAT): an overview of studies. Journal of sex & marital therapy, 26(3), 257–268. https://doi.org/10.1080/00926230050084650
Herbenick, D., Fu, T.-C. (J., Arter, J., Sanders, S. A., & Dodge, B. (2017). Women's experiences with GENITAL Touching, sexual pleasure, AND Orgasm: Results from a U.s. probability sample of women ages 18 to 94. Journal of Sex & Marital Therapy, 44(2), 201–212. https://doi.org/10.1080/0092623x.2017.1346530
Experts:
Carol Queen, Ph.D., staff sexologist at Good Vibrations
Dr. Martha Lee, D.H.S., relationship counselor, clinical sexologist, author, and owner of Eros Coaching
This article was originally published on