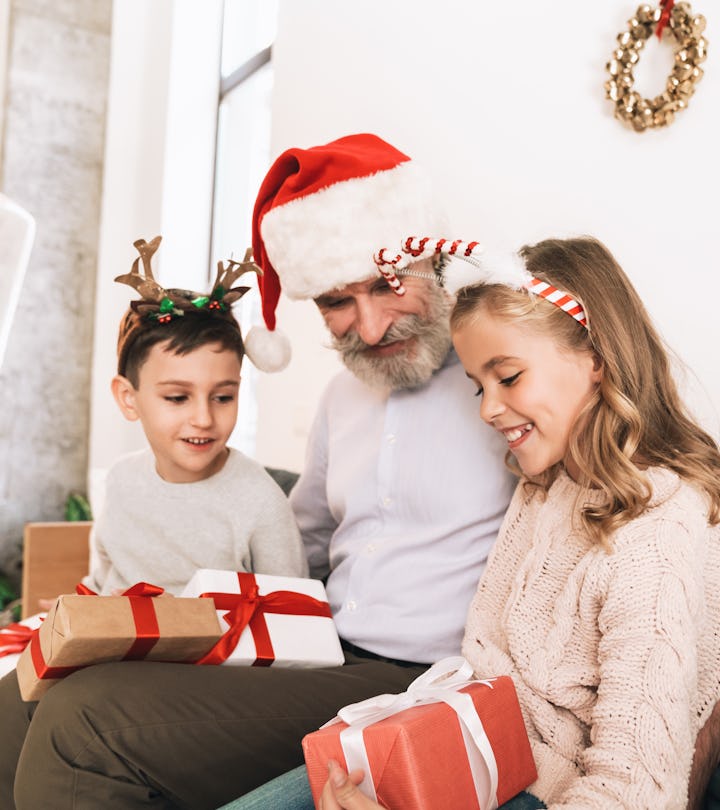 Dean Drobot/Shutterstock
These Thoughtful Gifts For Grandparents Will Get All The Tears
Oh yeah, you're totally winning Christmas this year.
Grandparents are the absolute best. Maybe it's just my family, but it seems like being sappy is a necessary requirement to become a grandparent. It's almost comical: We get yelled at for the better part of our childhood, but then grandbabies come along and they can do no wrong. Of course, that's also the very best part of watching grandparent-grandchild interactions. Spoil the grandparents in your life this holiday with these 18 thoughtful gifts for grandparents guaranteed to make them cry — happy tears, of course.
I've got to share my favorite grandparent story. My sister-in-law was chatting with her mom on the phone, and her son asked who she was talking to. When she responded, "My mom!" he stared at her blankly. "Grandma!" my sister-in-law clarified. Her son looked confused for a moment, and then slowly responded, "You mean, my friend Grandma?" It turns out, my precious nephew hadn't connected the family tree dots, and thought Grandma was simply his best friend who came over to play with him. And hey, sweet boy... you aren't wrong. Today, Grandma's official full name is obviously "My friend Grandma," and she deserves a Christmas gift worthy of the matriarch and best friend that she is.
We only include products that have been independently selected by Romper's editorial team. However, we may receive a portion of sales if you purchase a product through a link in this article.
Additional reporting by Abi Berwager Schreier