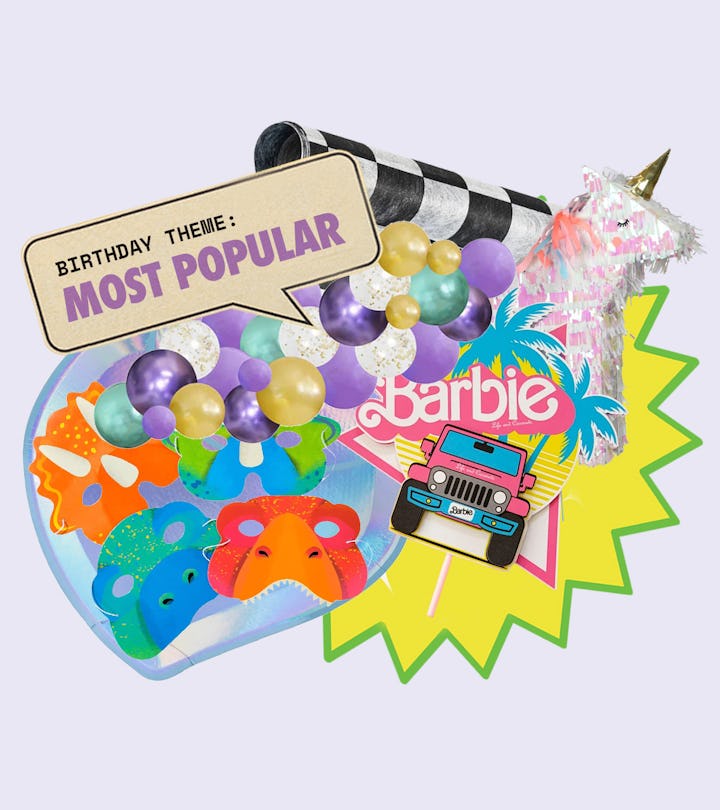 The Most Popular Birthday Party Themes & Everything You Need To Pull Them Off
We curated them so you don't have to.
If you're struggling to choose a theme (and your kid's not offering much feedback), we've assembled some popular kids' birthday party ideas that hold up year after year. But first, apply this age-based formula: "First birthdays are all about the parents. After that, you're gonna start getting input from your child," says Jillian Leslie, party planner and creator of Catch My Party, an online destination for party inspo, printables, and tips
Once your kid hits 2 or 3 and has, you know, opinions, they'll go for a lot of animal or creature-themes, like dinosaurs and mermaids, and then into their favorite characters like Paw Patrol, Encanto, or Mickey Mouse.
You also don't have to spend your life savings to throw an Instagram-worthy party. If you wants to make a big impact, go for a personalized birthday banner with your child's name on it (in theme, of course) and balloon arches or towers, says Leslie. Both have a big visual payoff without being too pricey. She also loves making a photo area for parents to take photos of their kids (it's an activity and a memento).
As for where you can skimp? "Save on the plates," Leslie says. "Nobody's gonna judge you for your paper plates. And in terms of food, virtually everybody serves pizza for the kids."
Below, we collected all the cutest decor for the most popular birthday party themes so you don't have to wander the Party City aisles feeling overwhelmed. Some of these are obvious choices — Barbie and LEGO and Mario are cannon at this point — but others, like Squishmallows and puppy parties, are gaining traction thanks to viral TikTok videos and Pinterest ideas. They take a child's interest — something as simple as their favorite stuffed, oval-shaped unicorn — and turn them into a bright, happy theme that will delight your kid and their guests. What could be better?
A Barbie birthday party
If your child asks for a Barbie birthday party, just know they've come a long way since having a Barbie doll with the cake skirt was the *pinnacle* of cool. You could go all in on hot pink everything, or choose a subgenre of Barbie — think Malibu Barbie or Rollerblading Barbie or even Weird Barbie — depending on your little one's interests and preferences.
If you need some inspo for your decorations, lean in to all the stellar marketing for the Barbie movie this summer and set up a life-size Barbie box for photos. With a few impactful decor moments (and some handy free printables, like water bottle labels and cupcake toppers) your kid will feel like you turned their party into a real-life dreamhouse.
An Encanto birthday party
Does your child sing the whole soundtrack to Encanto and recite the lines of the entire family Madrigal? Then an Encanto party is in order, no doubt! From a balloon arch and fiesta flags to the perfect hair bow party favors, your child and their friends will love everything about this theme. Don't forget to play the soundtrack throughout the day — the kids will surely treat you to some singalongs and dance numbers. There's just one rule to attend: we don't talk about Bruno. (Check out Leslie's Encanto birthday party setup for some seriously good inspo.)
A Squishmallow birthday party
Is your kid addicted to these gumdrop-shaped stuffies? If they've asked you for a Squishmallow-themed party, fear not: you can definitely find the decorations you need to pull it off. Stick to a cutesy color palette with pinks, purples, blues, and yellows, and you can even sit your child's real Squishmallows about as centerpieces. Hand out mystery mini Squishmallows as favors your kid's friends will actually play with for the foreseeable future.
There are even some great Squishmallows-inspired favors and birthday party outfits available to pull off the ultimate sweet and snuggly theme.
A mermaid birthday party
Whether your jumping off point is Disney's The Little Mermaid or just the undersea creature, there are so many invites, decorations, and party favors out there to choose from. A mermaid tail balloon arch is a must-have either way, as are lots of iridescent items reminiscent of mermaid tail scales. Temporary tattoos are a sweet favor option the kids can play with at the party or back at home.
A Mario birthday party
The Super Mario Bros. Movie has created a whole new generation of kids obsessed with the plumber brothers and their huge cast of friends and foes. Write a big "Wahoo!" on your invites (one of Mario's signature expressions) and lay out some fake mustaches for the kids to don once they arrive. They'll love jumping up to touch the question mark block piñata just like Mario does, and posing for pictures in front of the video game backdrop (which is customizable with your child's name). Leslie has thrown both a super cute Mario Party birthday and a Princess Peach birthday party, if you want to borrow her ideas.
A groovy '70s birthday party
Ready to party like it's 1975? Go all in with pink, orange, and yellow colored decorations and add timely touches here and there: a disco ball, psychedelic roller skate balloons, and flower power confetti. Your little one will love getting groovy on their special day, and their friends will too, especially when they get their own pair of funky flower glasses to wear home.
Bonus? There are tons of ways to make a groovy birthday party an age-specific celebration with lots of punny cake toppers, invitations, and more.
A Harry Potter birthday party
Ah, so your kid is finally into the classics. Ready to throw them the Harry Potter birthday party of their dreams and yours? You'll need invites bearing a Hogwarts seal, and garlands of acceptance letters to fill the air. Don't forget owls and Quidditch goals to sit here and there, and cauldron cups for the kids to drink their potions from and keep as favors. Complete the look with confetti and colorful accents from your child's Hogwarts house.
A dinosaur birthday party
Brontosaurus, stegosaurus, dilophosaurus — if you know way more about dinosaurs than you ever wanted to thanks to your kid's obsession, you already know what theme they're going to ask for. Dinosaur birthday party decorations are easy to come by thanks to their popularity, so you can find them in any color palette or style you want, really. Don't forget the jungle leaves!
A unicorn birthday party
Want to throw a seriously magical birthday bash? You're going to need all unicorn everything from cups and cracker favors to backdrops and piñatas. A pink, purple, and white color palette is the way to go with this theme, with iridescent touches throughout for some added pizazz.
A race car birthday party
There will always be kids who want to celebrate their big day with race cars everywhere. If your child is firmly in their car phase, you can still have a super cute party (sorry, Lightning McQueen is the opposite of aesthetic) by leaning into vintage race car decorations.
Keep a classic red, yellow, and blue theme with checkerboard accents in honor of the checkered flag at the big race. Stoplight balloon towers are the perfect accents to surround the food table or fill up an empty corner, and some not-garish race car erasers make sweet party favors for school-aged kids.
A rainbow birthday party
If your kid loves color and is always the bright spot in your day, why not throw them a rainbow birthday party? All your accents should be bold and feel like a massive serotonin hit. (That confetti? It sparks joy.) Your invites could introduce the theme with "Somewhere over the rainbow" if you want to clue in your guests. Little rainbow keychains make the perfect favors, and some of these decorations, like the rainbow pennants, can even be used in your child's room long after the partygoers head home.
A LEGO birthday party
Ah, a classic — most kids love LEGOs at some point, which means you may very well need to throw a LEGO birthday party. Stick to primary colors for your accents, and pull together colorful building block plates and cups with LEGO face confetti and banners. A customizable cake topper with your kid's name and age will pull everything together. Those LEGO straw cups are perfect for kids to sip on at the party and take home to remember the day.
A puppy birthday party
Um, excuse me, who let these dogs out? If you have an animal lover on your hands, a puppy birthday party is the perfect theme. There are lots of cute decor and invitation options out there, not to mention the most adorable party favors ever: mini adoptable stuffed puppies.
Meri Meri carries a puppy party set with coordinating garland, cupcake set, plates, napkins, and cups for a really great price. Or, you could mix and match the cutest canine finds for your little dog lover. There is seriously so much you can do with a puppy party, and if you're looking for the best puppy-themed favors and party activities, we've got you covered.
Cute birthday party themes inspired by age
1-year-old party themes
Wild One: A jungle theme with lots of green foliage and wild animals or a wildflower theme!
Sweet One: A strawberry-themed shindig with pops of red, pink, and berry-print everything.
Fairy First Birthday: Did you say very first birthday? Nope, bring your wings, magic toadstools, and pixie dust.
Baby In One-derland: Replace "Baby" with your little one's name on the invite, and decorate like it's a real-life tea party at the Mad Hatter's house.
One Year Has Flown By: A vintage airplane or hot air balloon-themed affair.
Somebunny Is One: Go full Beatrix Potter with bunny rabbit decor and food.
Another One Bites the Dust: A rock 'n' roll theme with guitars, a temporary tattoo station, and lots of little rockstars in attendance.
My First Rodeo: A Western, cowboy or cowgirl theme with horses, hats, and hay bales.
2-year-old party themes
Tea for Two: A tea party with little sandwiches, floral decor, and tea cups galore. This theme feels perfect for a morning or midday get together.
Two Groovy: The perfect pun to put on the invites for a '70s-themed soiree. You could choose "too" anything that applies to your toddler.
Totally Two-bular: A beachy, surfing-themed party for your little grom.
Two-nado: For the little tornado you love so much, a gray-and-blue storm-themed party.
Two-tti Frutti: Decorate with lots of brightly colored fruit balloons, and serve lots of yummy fruit foods too.
Two Infinity and Beyond: A cute pun for a space-themed party, or a Toy Story-inspired bash.
Taco Twosday: Does your little one live for guac and queso? Throw them a Taco Twosday party where they can snack their birthday away.
Chugga Chugga Two Two: The most adorable play on words for a train-themed birthday party.
Monkey See, Monkey Two: A brown and yellow color palette with little monkey accents here and there.
3-year-old party themes
3, 2, 1, Blast Off!: A super cute space-themed celebration.
Three-I-E-I-O: A barnyard bash with animals and red and white accents.
Three-Ring Circus: A big-top-themed birthday party. Don't forget to book a clown.
Three Agent: A play on free agent, this is the perfect pun for a sports-themed birthday party.
Threenager: Decorate with flip phones, sunglasses, nail polish, and other nostalgic teenage items.
Young and Wild and Three: A hip-hop-themed party with lyrical puns, on-theme snacks, and more. (Or, you could go with "Ain't Nothin' But A 3 Thang, Baby." IYKYK.
Three-Rex: A dinosaur party that'll make your toddler roar with excitement.
Swinging From The Threes: Monkeys everywhere!
What theme will you choose for your kid's birthday bash? With a little planning and some helpful expert tips, you can throw a party to remember without losing your sanity.