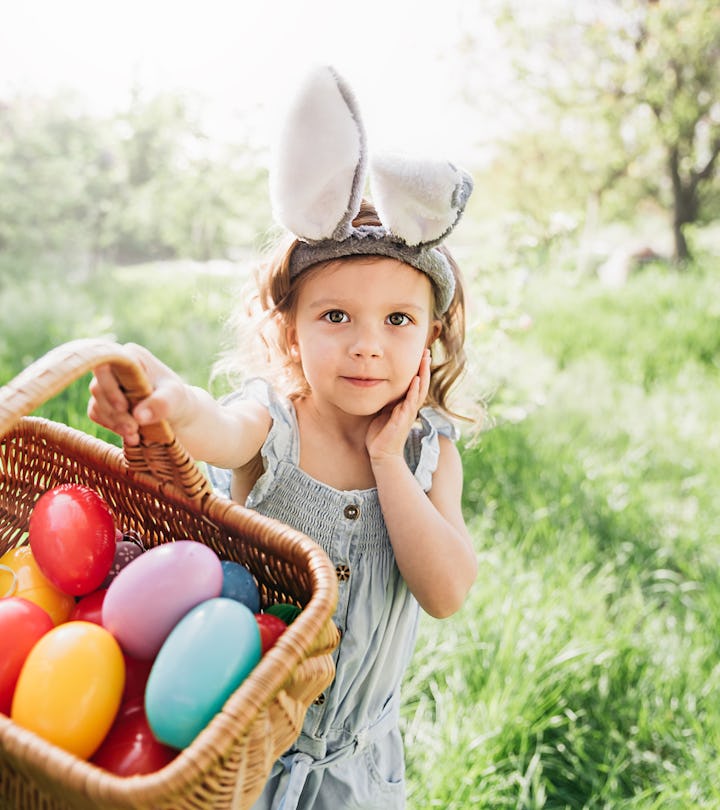 Natalia Serenko / 500px/500Px Plus/Getty Images
11 Brilliant Easter Egg Hunt Ideas For Toddlers
They'll Make Your Tot Ridiculously Happy
We may receive a portion of sales if you purchase a product through a link in this article.
Easter egg hunts are a childhood rite of passage for most kids, but sometimes the littlest ones need a bit of help with the activity. For the just-walking set, likely when your child is around 2, the easy Easter egg hunt ideas for toddlers are sure to be a hit. They can enjoy the thrill of the hunt without getting super frustrated by having to navigate around complicated terrains and obstacle courses and seek out advanced-level hiding spots.
When you hide Easter eggs for your toddler to find, your family is participating in an old tradition. Although its exact origins are unknown, Easter egg hunts have likely been around for hundreds of years in some cultures. In 1800s Scotland, for instance, it was believed to be a tradition for children to venture out early on Easter morning to collect the eggs of wild birds for breakfast. Although you probably won't put your toddler in charge of breakfast duty on Easter morning, it's still fun to keep such an old tradition alive.
With that in mind, you can put your own spin on the egg hunt according to your toddler's individual interests and abilities. Maybe all the eggs have a Bluey theme, or they're all filled with a favorite snack. Whatever the case, feel free to put your own, modern spin on this springtime tradition and make your toddler's Easter egg hunt more fun than frustrating with these practical tips.
You can make a successful Easter egg hunt for toddlers as simple or extravagant as you want. But remember, at this age, it really doesn't take much to really impress 2- and 3-year-olds. They'll love whatever you (or the Easter Bunny) have set up for them.
This article was originally published on