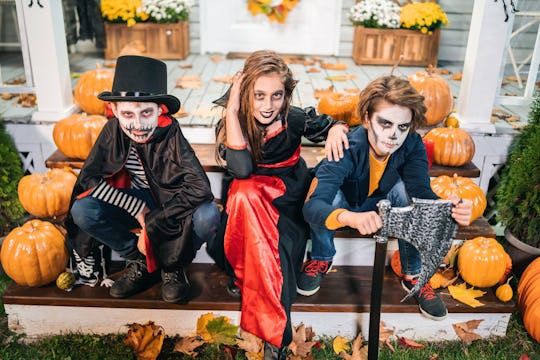 valentinrussanov/E+/Getty Images
16 Best Costumes For Kids From Amazon
Frightfully adorable costumes you can Prime on time.
The smell of pumpkin spice might not be in the air just yet, but the rush to secure the best kids Halloween costumes has already begun. If you want to beat the rush, Amazon Halloween costumes for kids are the way to go for their assortment, affordability, and easy return policy. Amazon not only has a giant selection, there are some wildly amusing options available this year. Think: lifeguard being eaten by a shark, a flying astronaut (that's right, flying!), and a costume that looks like the spitting image of Luca from the recent Disney and Pixar production.
Of course, you can also find classic costume options when shopping for Amazon Halloween costumes for kids. There are plenty of witch motifs, ghost ensembles, and vampire suits. All your favorite characters are there too. You can find all kinds of variations on Spider-Man, from the classic look to the latest Miles Morales (of Spiderverse fame) iteration. Harry Potter, Baby Yoda, and Pikachu are all present and accounted for as well, naturally. This is to say, if you want to peruse a giant selection of choices options, Amazon has tons of Halloween costumes for kids.
With plenty to choose from right now, the early bird gets the worm when it comes to shopping Amazon for your child's Halloween look. So check it out and if you act fast, you might just be able to snag a darling T. Rex or inflatable tiger costume. You read that right: inflatable tiger.
We only include products that have been independently selected by Romper's editorial team. However, we may receive a portion of sales if you purchase a product through a link in this article.
Looking for the best Amazon Halloween costumes for your kids? Start with this list and you'll be well on your way to finding something your child will love to wear come fright night.