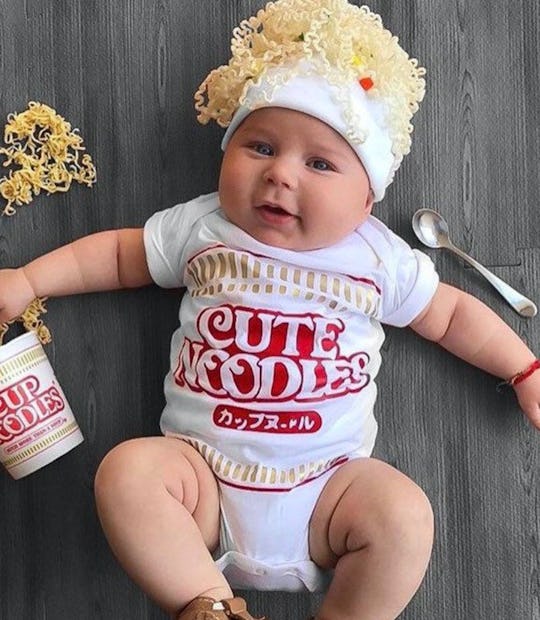 Etsy
These Are The Cutest Baby Halloween Costumes On Etsy
Sure, you could shop at a big box retailer for your kid's costume, but where's the homey, handmade quality in that? Especially for Baby's first Halloween, you might want to find an outfit that is more meaningful, and one that in theory you might like to save, either for a future sibling or simply as a snapshot of a moment in time. But if your DIY skills are slightly subpar, you may need to look elsewhere, like to the artisans on Etsy, to create an ensemble for you. These baby Halloween costumes on Etsy are all handmade — and all are absolutely adorable.
Your child has many, many years of being a caped crusader, or a princess, or any other costume that's available on Amazon or on a store shelf. But for their first foray into the world of trick-or-treating, ghosts and goblins, (and all that candy), it's cuter to have a costume that someone, somewhere, spent time creating with their own hands. One that you can literally see the love in every stitch, and that you can't find anywhere else. And that's what makes baby Halloween costumes on Etsy unlike anything else you could possibly put on your baby.
Get ready to ooh and aah over the costumes (and the creativity!) that you'll find when you scroll through Etsy searching for Baby's Halloween costume. It'll definitely be a treat that's just as good as finding a full-sized candy bar in your Halloween basket.
We only include products that have been independently selected by Romper's editorial team. However, we may receive a portion of sales if you purchase a product through a link in this article.
If you're looking to see what other baby Halloween costumes are out there, scroll through the sellers on Etsy. You'll definitely find costumes that offer another level of sweetness, and you'll be supporting small business owners, (many of whom are women), too. And that, ghoulfriends, is a Halloween homerun.