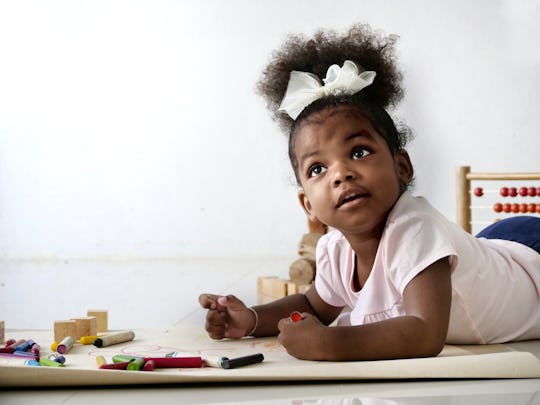 Shutterstock
These Bat Coloring Pages Are So Cute & Totally Free
For days when you're just hanging around the house
Personally, I am definitely not a fan of bats, but for some reason, a lot of kids have an unwavering fascination with them. If your child is one of those kids, then they'd probably enjoy getting a stack of bat coloring pages to fill in on a rainy day (or any day, really). You don't even have to shell out money to do this, either, because there are a bunch of free pages you can print right at home.
After discovering bats in a storage closet off of my bedroom not long ago, I want to stay as far away from them as possible. So, if my daughters came to me and asked if I'd get them some bat coloring pages, there's a good chance I'd gasp and say, "too soon" in response, regardless of how long it had been since my unpleasant experience. However, if they're going to insist on coloring pictures of bats, I'd certainly rather print some off for free at home than spend money on a huge coloring book filled with bats. I'd probably also have to set some strict boundaries about where and how many completed bat coloring pages they were allowed to display in our home (I can just see those beady eyes staring at me from the fridge now).
While I may be one of the unlucky few to discover bats in her home, I know I'm not the only adult who would rather not invest their money into a bat-themed coloring book. So, if you're on the hunt for a few free bat coloring pages of your own, here are some to choose from.
If you print out these pages and make a one-of-a-kind bat coloring book for your kid, you're sure to be dubbed the "cool adult" for the day and get a little peace and quiet while they diligently work on their little masterpieces. Just remember that for every coloring page your kid completes, they will probably ask where they can put it on display for everyone to see, so you could have a bat infestation of your own if you're not careful.