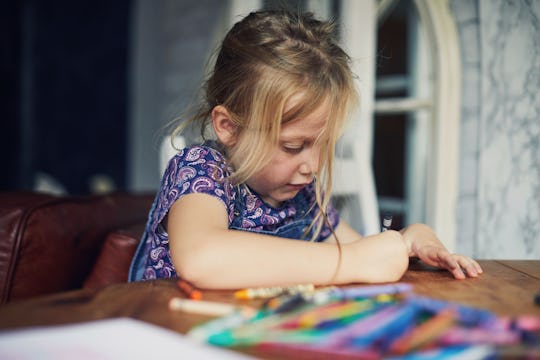 Sally Anscombe/DigitalVision/Getty Images
These 20 Free Coloring Pages Are For Every Kind Of Kid
There's something for everybody.
When it comes to coloring, kids know something that we as adults sometimes forget: It's fun. There's just something relaxing about following the pattern, picking out crayons or markers, and filling a black and white page with color, bringing the image to life. Of course, sometimes all it takes is for a younger sibling to scribble in a coloring book to ruin their masterpiece (and cause a major fight). That's why you need to check out these 20 free printable coloring pages for kids: They'll inspire your kids to pick up their crayons, and you can always print out more.
The cool thing about coloring pages is that you can find them on almost any topic. You can even match them to something that your kids are learning in school (think science or reading). They aren't stuck with the same theme for pages and pages, like they might be with a regular coloring book. And coloring isn't good for just keeping your kiddo occupied (which, obvs, is a big bonus) — it's an essential therapeutic tool when it comes to relaxing and winding down, Kid Companions reported. Not only does it help pave the way for mindfulness, but it can even help boost your child's fine motor skills as they learn how to maneuver their fingers to hold the crayon and color within the lines, according to Scholastic.
So what will your kid color today? Be sure to have enough paper and ink ready to find out.
Coloring has never been so calming or fun than with these fun pages. And with so many options to choose from, better stock up on crayons and markers, momma.
This article was originally published on